Big Dance, Little Stage, w. Learie Mc Nicolls, Wed-Thurs Mar 23-24, Thurs Apr 21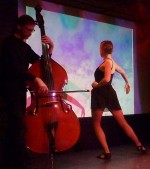 Wednesday March 23 and Thursday March 24, 2016, at 8 pm, $10. Choreographer/dancer Learie Mc Nicolls curates and hosts edition #9 of Big Dance, Little Stage, an evening of contemporary dance works for a small stage. An exciting opportunity for dancers to showcase new work, explore improvisations, and build new collaborations . Line-up for March 23 and 24 (Easter edition) includes: Sharon Harvey, Megan English, Anderson Langille, Jackie Pullar, Pearl Lall (Thurs only), and Learie Mc Nicolls. (Photo Anderson Langille and Orange McFarland, BDLS, Dec 3, 2015.)
Next edition of BDLS, Thursday April 21, line-up: Tanya Langille, Nimmi Kalra Brenzil and  special guest jazz vocalist Sophia Perlman singing "Isn't It a Pity" to Learie's choreography. Learie is also premiering an excerpt of his new solo, The Night Journey..