World Storytelling Day, two events, Sun Mar 20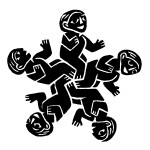 Sunday March 20, 2016. Two events to celebrate World Storytelling Day:
** 2:30 to 4:30 pm: Stories of Discovery by participants in the McMaster Discovery Program.
** 5 to 7 pm: Strong Women Burning Brightly, a concert celebrating the wit, wisdom and wonder of Crones and Damsels, by The Burlington Storytellers' Guild.
Come to one or both. Admission free or by donation. All ages. Read on for details.
2:30 to 4:30 pm: Stories of Discovery is an opportunity for alumni of the McMaster Discovery Program to showcase their diverse talents in writing, performance and storytelling. Stories will range from the personal to the fictional to the passionate. For the past five years, the Discovery Program has provided a free, university-level class to adults who have experienced barriers in accessing higher education. Alumni of the Discovery Program form vibrant and active community of people, many of whom will be performing in this event. Admittance is pay-as-you-can, and all proceeds will support the Discovery Program. https://artsci.mcmaster.ca/mcmaster-discovery-program/
5 to 7 pm: Strong Women Burning Brightly, a concert celebrating the wit, wisdom and wonder of Crones and Damsels, is a presentation of The Burlington Storytellers' Guild in honour of World Storytelling Day, whose theme this year is Strong Women.
World Storytelling Day (March 20th) is a global celebration of the art of oral storytelling, celebrated every year on the equinox. On World Storytelling Day, as many people as possible tell and listen to stories in as many languages and at as many places as possible, during the same day and night. Participants tell each other about their events in order to share stories and inspiration, to learn from each other and create international contacts. http://www.freewebs.com/worldstorytellingday/
The Burlington Storytellers' Guild was formed for the furtherance and enjoyment of Storytelling. Members are dedicated to the growth, development and expansion of oral tradition storytelling as an art form.  http://burlingtonstorytellersguild.vpweb.ca/events