Inside the Songs: Avery, Straker, Wells, triple-bill, Thurs Mar 31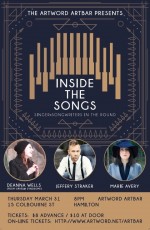 Thursday March 31, 2016, at 8:00 pm, $8 advance / $10 at door.


Book advance price online
Inside the Songs,
singer-songwriters in the round. Three wonderful songwriters who have all played Artword Artbar's piano in the past, are combining forces in a powerhouse triple-bill:
Deanna Wells (from Ophelia Syndrome), Jeffery Straker, and Marie Avery.