"Hamilton, Durand, Pub & Parlour" Capella Intima vocal quartet- Tues June 18 at 9 pm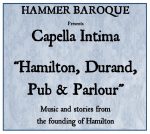 Tuesday June 18, at 9 pm, free admission (sponsored by Hamilton Arts Council and the Downtown BIA). Part of
Hamilton Arts Week
.
Special event at Artword Artbar: The
Capella Intima
vocal quartet performs
Hamilton, Durand, Pub & Parlour
, the story of the founding of Hamilton, with music and readings from early 19th to 20th centuries. Fun, enlightening programme on the city's early days: settlement, growth, war, court system, pub songs, churches, development. Readings are from Public Library archives. Runs 45 minutes.
Founded by tenor
Bud Roach
(of
Hammer Baroque
) in 2008,
Capella Intima
has carved out a niche for itself in the Toronto/Hamilton early music scene by presenting the vocal chamber music of the 17th century in exciting concerts of rarely-heard gems. With motets and cantatas for up to four voices interspersed with readings from composers, performers and critics of the period, audiences are given context to music
https://www.hamiltonartscouncil.ca/artsweek
Event, Literary, Spoken Word, Music, Music-Classical, Special event, Storytelling