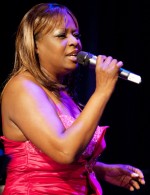 Diana has laryngitis so we are rescheduling the concert to Sat April 25, 2015.
We've also added a concert by Colina Phillips on Sat March 7.
Saturday, January 31, 2015, at 8 pm, $20 (call to reserve 905-543-8512).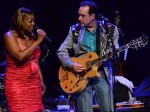 A special concert with Diana Braithwaite, vocalist (left), Chris Whiteley, guitarist, and their special guest vocalist Colina Phillips (right). Celebrate the launch of Black History month with an intimate evening of soulful music: roots and blues, early jazz and gospel.
Diana Braithwaite and Chris Whiteley, eight-time national blues award winners, have recorded five albums together with Electro-Fi Records and have toured all over North America, UK and Europe winning numerous awards for their songwriting and albums together. "It's a rare and good thing when two talented performers join forces". Downbeat Magazine. http://www.braithwaiteandwhiteley.com   
Diana Braithwaite, dubbed a "national treasure" by Bluz FM radio host Danny Marks, Diana is recognized as an artist who is keeping the authentic traditional blues sound alive in the contemporary blues scene today. Diana combines elements from Nina Simone, Esther Phillips, Lil Green, and others, to create her own unique authentic blues style. A forceful presence on the Canadian and American blues scene, she has performed in the company of such stalwarts as Mel Brown, Albert Collins, John Lee Hooker and Jeff Healey. Diana is a descendant of the Wellington County pioneers, who escaped slavery through the Underground Railroad to the first African-Canadian pioneer settlement in Ontario.
Multi-instrumentalist Chris Whiteley, born in Kansas, worked as a teenager with blues legend Lonnie Johnson. In the late 70's he toured and recorded with Leon Redbone, appearing with him on Saturday Night Live. He also met the legendary Chicago piano player Blind John Davis, with whom he toured and recorded. He built a a solid reputation and career as a multi-instrumental session player, appearing on over 200 recordings, and as a solo artist, leading to numerous Canadian Maple Blues Awards as both songwriter and horn player of the year, and a Jazz Report Magazine Blues Album of the Year Award. In 2010 Whiteley was awarded the prestigious Blues with a Feeling Award for lifetime achievement in the blues. In January 2014 Chris Whiteley won the Maple Blues Award for the top blues horn player in Canada–for the 7th time.