Koopa Troop, jazz arrangements of video game music, Wed Nov 19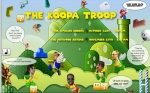 Wednesday November 19, 2014, at 8 pm. Jazz bassist Tom Altobelli has a new project, Koopa Troop, a new group who play their own jazz arrangements of classic video game music. Songs from Mario, Tetris, Pokemon, Metroid, and Banjo Kazooie. The band members, all Humber alumni, are: Chelsea McBride flute/tenor sax, Wilson McLeish guitar, Chris Bruder keys, Tom Altobelli bass, Tyler Goertzen drums.
The Matthew Pullicino Tercet will open the evening.