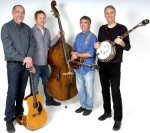 Saturday November 8, 2014, at 8 pm, $15. Back again (their shows sell out, so reserve early!) New Cumberland, a bluegrass band from London Ontario: Tom Burns – vocals and guitar,  Blair Heddle – vocals, mandolin and dobro, Paul Hurdle – vocals and banjo, Tom Rutledge – string bass. [To reserve, call Artword Artbar 905-543-8512].
Featuring inventive solo work, driving rhythms and three part vocal harmonies, New Cumberland's musical integrity and joy in playing together resonates in every performance. www.newcumberlandband.com   Proficient in the straight ahead driving bluegrass of…
Bill Monroe and Jimmy Martin, New Cumberland also stretches the genre in directions taken by The Seldom Scene, John Hartford and Jerry Garcia's Old and in the Way. Songs from non-bluegrass artists such as the Grateful Dead, Neil Young, The Rolling Stones and Willie P. Bennett are also liable to appear on a New Cumberland set list.
"Refreshingly tuneful, New Cumberland has everything I love about roots music; seamless harmonies, timeless tunes, and a whole lot of things with strings!" Allison Brown former host of CHRW's "For The Folk" 94.9 FM London. "Bluegrass masters…" James Reaney, London Free Press.