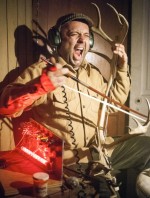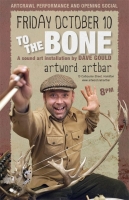 Friday October 10, 2014, James North Art Crawl, music and art and craft beer on tap. In the Gallery: special guest tonight is musician/sculptor/zany guy Dave Gould, with an installation mainly of his instruments made of bones. And in the bar, Dave will demonstrate and perform on the instruments. The show is called "TO THE BONE" – from Dave Gould's Audiotorium Collection.
Dave explains: "I am inspired to re-purpose objects in unique ways whether it is with my electro-acoustic sculptures/instruments or visual art. It is my hope that people will be inspired to perceive their environments in new ways and find art in everyday life. I am also intrigued by the blurring of lines between what is visual and what is musical which prompts the question, "Is that a musical instrument or a sculpture?"
The installation will remain on view for the month of October.