The Muted Note: Songs Based on Poems by P.K. Page, Susanna Hood & Scott Thomson, Thurs Sept 25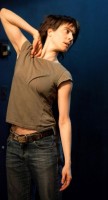 Thursday September 25 at 8 pm, $10. The Muted Note: Songs Based on Poems by P.K. Page, created and performed by Susanna Hood (voice & dance) and Scott Thomson (trombone). Artword Artbar is one stop on Susanna and Scott's tour performing The Muted Note as a duo in small venues across Canada. http://www.scottthomson.ca/muted-note/
The Muted Note is a suite of songs composed by Scott Thomson, settings of poems by P.K. Page, for Susanna Hood's singing voice. As a duo, Susanna, in addition to singing the lyrics, improvises on the songs both vocally and in dance, a synthesis for which she is singularly acclaimed in Canada. Scott, on trombone, both underpins Susanna and solos on the songs in a wide-ranging style that reflects his broad experience as an improviser. Throughout, P.K. Page's stellar poems are at the core of the work and, in both dance and music, Scott and Susanna seek to animate and activate the verse as they play. Their extensive Canadian tour this autumn will help to promote their new duo disc on &records.
Susanna Hood is a compelling and virtuosic performer in dance and music. She began her career with Toronto Dance Theatre, 1991-95. Independently, she has performed the works of various Toronto choreographers; created singing/dancing roles with Autumn Leaf Productions; acted on film for filmmaker Philip Barker; created music for the dance works of Louis Laberge Coté, Rebecca Todd, and Eryn Dace Trudell; collaborated extensively with composers John Oswald and Nilan Perera; and performed widely as an improviser in dance and music. Her collaborative projects as well as her own choreography and music compositions have been presented throughout Toronto, nationally, and internationally on stage and film since 1991. She has won the K.M. Hunter Emerging Artist Award and the Victor Martyn Lynch-Staunton Award for Outstanding Achievement in Dance.
Scott Thomson is a trombonist and composer who lives in Montréal, having moved from Toronto in 2010. He plays in established groups in many styles, and prizes ad hoc improvising as a way to meet many creative people. He has studied with Roswell Rudd, Jean Derome, Eddie Prévost, and John Oswald. Scott is one of the founders of the Association of Improvising Musicians in Toronto (AIMToronto), and co-directs the AIMToronto Orchestra, which was formed for a project with Anthony Braxton in September 2007. While in Toronto, Scott was the artistic director of Somewhere There, a venue for live creative music that he founded in 2007. Scott has composed a series of site-specific pieces that he calls 'cartographic compositions' for mobile musicians and audiences in unconventional performance contexts, including works for the galleries and corridors of the National Gallery of Canada and the Art Gallery of Ontario.
Susanna and Scott's principal project, currently, is a multi-faceted collaboration to perform Scott's suite of songs based on poetry by P.K. Page, one of Canada's most celebrated literary figures. For this project, The Muted Note, Scott and Susanna perform the suite as a duo; with Scott's quintet, The Disguises (with Nicolas Caloia, Yves Charuest, and Pierre Tanguay); and as a full stage work featuring Susanna's choreography on three other dancers (Ellen Furey, Alanna Kraaijeveld, and Bernard Martin) with live music by The Disguises.
From a review by Stuart Broomer in Musicworks: "The Muted Note is a striking accomplishment.
The title of the suite comes from The Understatement, the penultimate poem in Page's Cosmologies:
I speak not in hyperbole,
I speak in true words muted to their undertone,
choosing a pebble where you would choose a stone,
projecting pebbles to immensity.
For where love is no word can be compounded
extravagant enough to frame the kiss
and so I use the under-emphasis,
the muted note, the less than purely rounded. "