Latin Jazz with Eli's Quartet "From Havana to Hamilton", Fri July 4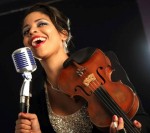 Friday July 4 at 8 pm, $5. Eli's Quartet presents "From Havana to Hamilton", an evening of Cuban and Brazilian jazz and American standards. Featuring Elizabeth Herrera Rodriguez on vocals and violin, with Jill McKenna on bass, Jonathan Pascoal on drums, John Imre on piano.
Elizabeth Herrera Rodriguez was educated as a concert violinist in Havana. Currently based in Hamilton, she has recently been pursuing her true passion as a jazz singer, singing the American classic standards, Gershwin, Porter and Kahn, and Ella Fitzgerald, Sarah Vaughan and Billie Holiday. Her repertoire includes the great Brazilian and Cuban composers, Jobim and de Moraes.