Concert: Wayne Janus and his band Kaizen, Sat July 12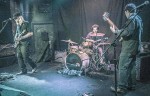 Saturday July 12, 2014, at 8 pm, $5. KAIZEN is a three-piece band: drums (David Carrillo), bass (Shane Lannigan) and guitar/vocals (Wayne Janus). Their sound has a rich variety of influences ranging from Funk, Jazz, Blues, Fusion, Rock, and Latin. At Artword Artbar, Kaizen performs a mix of original and cover material. Kaizen's live performance is very captivating and their connect with the audience is outstanding.
Kaizen's debut release entitled First Impressions, received positive reviews from various national and international sources.  Currently, Kaizen has just finished their second CD. This second disk features a vocalist performing Sanskrit chanting. Their producer Christopher T. Wilson makes a cameo appearance playing some haunting synth as a backing ambient track.
Kaizen is building a strong fan base locally, nationally and internationally. Things are going to soar for Kaizen with the release of their second CD and the launch of their new web page www.kaizen.xyz. Kaizen is in the early stages of their musical journey and they are already being compared to other well known Jazz/Rock greats in the music industry. For more about Wayne Janus, visit http://www.waynejanus.com/
Watch a Cable 14 live performance of Kaizen's new material http://youtu.be/lAOkVeTomlk