Jazz Jam, hosts John Imre, Kevin Fraser, Devin Patten, Wed Sept 25, Thurs Oct 31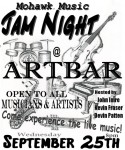 Wednesday September 25, 2013, at 8 pm, no cover, tip jar. Mohawk Music Jam Night, mostly jazz, all musicians welcome. The evening is hosted by John Imre, playing our baby grand piano, Kevin Fraser on bass and guitar and Devin Patten on bass.
And another Jazz Jam on Thursday October 31 at 8 pm (details coming).