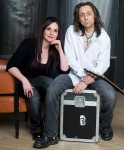 Saturday September 28 at 8 pm, $15 door, $10 advance (905-543-8512 or BUY ADVANCE TICKETS ON-LINE):
Tia McGraff, with Tommy Parham, Canadian Country songstress, back from Texas and Nashville, and here at Artword Artbar with her CD release concert.
Come share in an evening of story/song/laughter/tears with Tia McGraff and Tommy Parham as they celebrate the new release of Break These Chains! www.TiaMcGraff.com
In 2010 Roots Artist Tia McGraff won Best Country CD of the Year at the Hamilton Music Awards. "Every songwriter's dream is to make it in Nashville,
and Tia soon found herself moving there to further her passion and craft. It was in Music City, USA, that this Canadian songstress met Colorado native, Tommy Parham (Lee Greenwood's "Rocks You Can't Move". They have a passion for songwriting "outside the box". Performing on main stage festivals, concert halls, song writing venues, and even house concerts, Tia captures her audience and holds them spell bound until her last haunting note has faded. Today, Tia and Tommy base their international music career out of Tia's home town of Port Dover, ON, Canada.