new music adventure: The Bicycle Opera Project, Thurs July 11
SPECIAL CONCERT Thursday July 11 at 8 pm, $20 (online link below). The Bicycle Opera Project: 14 wheels, 6 opera scenes, 4 voices, 3 instruments, and a sense of adventure, on tour! (Toronto July 4-7, and on tour July 11-28: Hamilton, Guelph, Elora, Fergus, Kitchener, Waterloo, Stratford, London and Bayfield.)  Artword Artbar is their Hamilton stop! http://bicycleopera.ca/   Order tickets: http://bicycleopera-hamilton.eventbrite.ca/
Performers on the 2013 tour: Geoffrey Sirett baritone, Michelle Simmons mezzo, Will Reid tenor, Larissa Koniuk soprano, with Wesley Shen, Music Director and piano, Leslie Ting violin, Katherine Watson flute.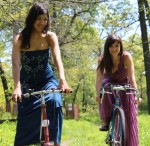 They'll be presenting the following new opera works:
Rosa – James Rolfe and Camyar Chai
Little Miss All Canadian – Lemit Beecher and Liza Balkan
Cake – Monica Pearce
The Enslavement and Liberation of Oksana G. – Aaron Gervais and Colleen Murphy
Trahisons liquides, excerpts – Stacey Brown & Sébastien Harrisson
Slip, excerpts – Juliet Palmer and Anna Chatterton
read more about the works 2013 Program:
Our 2013 scenes are focused around women's stories. We are thrilled to be presenting the following fantastic, timely, challenging, beautiful, Canadian works, each adapted to fit our unique ensemble:
Rosa by James Rolfe and Camyar Chai
Isabelle has fled from her home and husband after the death of their child. Hector finds her in a brothel, where she has retreated in order to forget, and desperately urges her to return.
Little Miss All Canadian by Lemit Beecher and Liza Balkan
A miniature opera that was written at this year's Composer-Librettist Laboratory (LibLab) at Tapestry. Two mothers hilariously coach their daughters from the sidelines of a beauty pageant while they discover a disturbing article in the paper: an eleven-year-old girl's dismembered body parts have been discovered in a park.
Cake by Monica Pearce
This twelve-minute comedic opera premiered in January 2012 at the Toy Piano Composers' Opera Scenesters concert. A bride-to-be barely navigates her family's relationships and expectations as she attempts to order the perfect cake for her wedding.
The Enslavement and Liberation of Oksana G.by Aaron Gervais
and Colleen Murphy    
This scene served as the genesis for the larger work but does not exist in the full-scale opera. A woman from Eastern Europe had been forced into prostitution, but manages to escape to Italy. She finds herself at a safe house run by a priest and has begun the process of recovery. One night, she enters the priest's room to look out the window at the moon. He wakes up and they begin discussing her situation, the possibility of returning home, and their relationship.
Trahisons liquides – excerpt by Stacey Brown & Sébastien Harrisson
Set on the Hibernia oil platform located off the east coast of Newfoundland, Pierre, a neurologist is conducting research on the reactions of the human brain under water. Nora, a deep-sea welder, is one of Pierre's research subjects and the two become romantically involved. Nora encounters the spirit of a long dead pilot, who mistakes her for her past lover, and Pierre manipulates his authority to keep Nora close.
Slip – excerpts by Juliet Palmer and Anna Chatterton – Fall Apart, Wishes
Slip was created as a site-specific performance for the Harrison Baths, Toronto's only public bathing complex. Connecting to homelessness, the piece also explores how we are bound together by the intimate experience of cleansing and our precious connection to water and how women experience interaction in intimate spaces.