Latin Music and Poetry peña with Marcelo Puente, Thurs Nov 9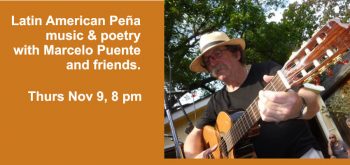 Thursday November 9, 2017, at 8 pm, $10. Join us for a special evening: a Latin Peña Trova y Poesia,
with artists: Ama Luna, Edgardo Moreno, Fito Molina, Lil America, Marcelo Puente, Nancy Reyes, Constanza Durán and a guest youth poet.
https://www.facebook.com/events/163435450911998/?ti=cl.
From Wally Brooker's Music Notes Newsletter: "Marcelo Puente [is] one of the outstanding exponents of the "nueva cancion" tradition in this (or any) country. Marcelo Puente came to Toronto in the aftermath of the coup in Chile in 1973, bringing his songs and poetry. In the late seventies he co-founded the popular Chilean-Greek band Los Compañeros, a group of anti-fascist exiles who discovered a common musical language." For more info: http://companero-group-international.com/