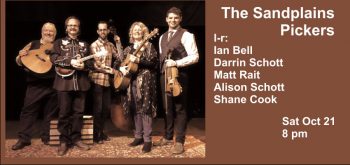 Saturday, October 21, 2017, at 8 pm, $15. Reserve 905-543-8512 or 

Book online.
The Sandplains Pickers are a new stringband from Southwestern Ontario, with musical styles ranging from old-time country and folk to western swing, and some blazing fiddle tunes. The band members are:
– Country and bluegrass favourites Darrin Schott on mandolin, fiddle, vocals, and Alison Schott on guitar, ukulele, vocals.
– Veteran singer and songwriter Ian Bell, on guitar, banjo, harmonica, concertina, bass, vocals.
– North American fiddle champ Shane Cook on fiddle and mandolin.
– Bass player Matt Rait on guitar and string bass.
They play mostly original songs by Ian, Darrin and Alison, and some songs by regional songwriters, that paint a picture of Southwestern Ontario from Backus Mill, tobacco kilns and farm kitchens to the Summer Garden dancehall, motorcycles and Port Dover fishermen. Expect some hot instrumentals that show off the virtuosic playing of Shane Cook, who is the only fiddler to have won both the Canadian and US fiddle championships, and of Darrin Schott, whose talents have led him to work with The Good Bros., Susan Aglukark, The Ennis Sister and Stompin' Tom Connors.