Romancing the Song, w. Loretta Bailey, James Gordon, Michael Mulrooney, Sat June 24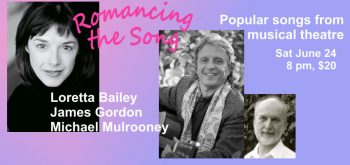 Saturday June 24, 2017, at 8 pm, $20.
Call 905-543-8512, or

Book online
Robert Missen presents Romancing the Song, performed by singers Lorretta Bailey and James Gordon, with Michael Mulrooney on piano, in a tribute to the wealth of musical treasures from the Great American Songbook. Three of Canada's foremost entertainers perform popular songs from musical theatre, films and Tin Pa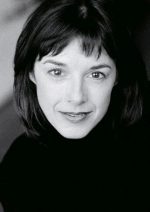 n Alley of the early to mid-20th century, including songs by Irving Berlin, Cole Porter, Hoagy Carmichael, George Gershwin, Harold Arlen, Richard Rodgers and others. Lorretta Bailey, James Gordon and Michael Mulrooney have all had lengthy and distinguished careers in concerts and theatres across Canada.
Lorretta Bailey is one of Canada's finest musical theatre performers came to prominence as Eponine in the Toronto production of Les Miserables. She went on to perform with all of the major regional theatre companies across Canada. She is a Founding Co-Artistic Director of the Lowville Festival, the "festival of all the arts for the artist in all of us", which is held annually in and around the historic hamlet of Lowville in north Burlington.
James Gordon, a native of Guelph, was a founder and long-time member of Tamarack, the acclaimed Canadian folk group, as well as Guelph's Hillside Festival. The accomplished singer-songwriter has released twenty solo albums. Many of his songs have been covered by a variety of major Canadian artists. He also has a number of successful musicals to his credit.
Michael Mulrooney studied conducting, piano, and voice at the University of Toronto, and has pursued an eclectic musical career centering on the theatre. He has served as pianist, conductor and/or musical director on over 200 theatrical productions, frequently contributing arrangements or original music as well.  Developing new works has long been an interest, and he has been involved in numerous first productions, ranging from small-scale musicals and cabarets to the pre-Broadway Toronto productions of Kiss of the Spiderwoman, Show Boat, and Ragtime.
Conducting credits include Kiss of the Spiderwoman (Toronto), Show Boat (Toronto and New York), Starlight Express (Bochum, Germany), and Les Misérables (Toronto and Bilingual Canadian Tour). Recent musical direction credits include touring productions of Extraordinary and A Christmas Carol for the Smile Theatre Company, Billy Bishop Goes To War for the Highlands Summer Festival, Musical of Musicals (the Musical) for Mirvish Productions, and John Connolly's Marathon of Hope for Sheridan College's Canadian Musical Theatre Project.
Outside the theatre, he is director of music for Tansley United Church in Burlington, serves occasionally as a mentor in Boris Brott's National Academy Orchestra, and spends as much time as possible among the talented and cheerful students at Sheridan College.