Andrew Aldridge – Planet of the Loops, Thur June 15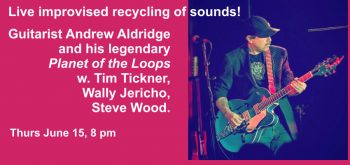 Thursday June 15, 2017, at 8 pm, $tba (call 905-543-8512). Noted guitarist Andrew Aldridge is bringing back his legendary Planet of the Loops  live at Artword Artbar with special guests: Tim Tickner, Wally Jericho, Steve Wood, Andrew Aldridge.
Join us for a night of live improvised recycling of sounds!
Anything can happen, and frequently does! Planet of the Loops was established in 1998 in Toronto and continues with Looping events in various cities with all different musicians 'looping' their sounds together to create an experience that's never, um… repeated *pun*. Seating is limited. To reserve, call Artword Artbar (905-543-8512). https://www.andrewaldridgemusic.com/
Andrew explains: "In 1998 (in Toronto) I started a Collective event called Planet of the Loops. It's an improvisational/ experimental night consisting of 3-4 players. It ran in Toronto until 2005. Then I moved to Hamilton and occasionally had some Planet events in various locations. I was touring a lot too and couldn't do a regular monthly event. I am hoping to start doing more regular Looping nights – in Hamilton and other cities – and would really like to have an association with Artword Artbar for this event (and hopefully future ones)."  For Andrew's bio, read on…
For the past 20 years guitarist Andrew Aldridge has carved out a spot for himself in the Canadian, and International, music scene with a distinctive sound and style that supports and enhances the artist and their craft.  Danny Michel, Sarah Slean, Lori Yates, Oh Susanna and many other critically acclaimed Canadian artists have chosen Andrew as their guitarist for touring and recording. His complimentative style and ability to adapt it to other genres have given Andrew the opportunity to play with more diverse acts such as Albert Bouchard (Blue Oyster Cult), Jakalope (Dave Olgive/Trent Reznor), Nudie (old school traditional Country) and The Battle of Santiago (afro cubans-post rock).
As a producer, Andrew has been involved with several albums that have either been nominated or won Hamilton Music Awards and has previously been nominated for 'Producer of the Year'. These accolades have continued to further his career as a producer.
Andrew started the experimental 'Planet of the Loops' collective. In 1998 and has made appearance at various experimental music festivals such as the 'World Looping Festival' in Santa Cruz and the Toronto Jazz Festival. Currently he is working on new recordings with his Alt-Country/Rock project "Mississippi Bends" with Mary Simon and is in writing mode for a debut  solo record to be recorded Summer 2017.