JAZZ: Adrean Farrugia Trio, with Drew Jurecka violin, Fri Mar 17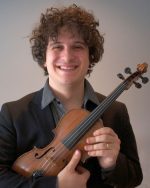 Friday March 17, 2017, at 8 pm, $15 / $10 students. Jazz with the Adrean Farrugia Trio featuring violinist Drew Jurecka.  Adrean Farrugia piano, Drew Jurecka violin/vocals, Clark Johnston bass.
Drew Jurecka, violinist, has spent ten years playing jazz in Toronto, and has become an in-demand sideman and session player. He has played, written or arranged on more than 150 records, including several Juno winning and Grammy nominated albums. Drew spent 5 years on the road with Jeff Healey, and now plays as part of Jill Barber's band.  He has also written and arranged for Jill's records, and produced her last two records.
Award-winning pianist Adrean Farrugia has been featured on more than 30 albums to date garnering multiple Juno awards and nominations and has performed internationally across Canada, the United States, Japan, France, Germany, Poland, The Netherlands, the United Kingdom, Israel, and Australia. Adrean performs regularly with platinum selling artist Matt Dusk as well as American trumpet virtuoso Brad Goode's band featuring saxophone legend Ernie Watts. Adrean is currently on the Faculty of Music at Mohawk College and has also served on the faculties of York University and Humber College.
Clark Johnston started his professional career as a bassist in 1994 and has since worked with the likes of Diana Panton, Peter Appleyard, Gene DiNovi, Reg Schwager, Don Thompson, John Sherwood, the Mike Malone Jazz Orchestra, as well as the Darcy Hepner Jazz Orchestra–just to name a few. Clark holds a master's degree in music composition and a bachelor of education from York University and is currently on faculty at Mohawk College and McMaster University.