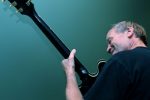 Friday February 3, 2017, at 8 pm, $15. Reserve 905-543-8512 0r 

Book online
Stuart Laughton is back with his wonderful Radio Dial show, and lots of new material. The lineup for Feb 3 includes Rebecca Campbell (guitar/vocals), Jim Clayton (piano), Martin Worthy (drums), and Steve Lucas (bass), and of course, Stuart Laughton on trumpet, guitar, and many other instruments!
Why RADIO DIAL? Because on long car trips, Stuart scours the radio waves for interesting music, and wanted to bring a similarly eclectic presentation to the stage (think Stuart McLean's Vinyl Café, with the speaking and musical proportions reversed). http://www.radiodial.ca/  It helps that Stuart sings and plays a dozen instruments, and that he injects his contagious enthusiasm into a kaleidoscopic amalgam of 1920's Broadway, country blues and 60's pop instrumental hits, B.B. King guitar, Boogie Woogie piano and Chet Baker's jazz trumpet, country, Celtic, rockabilly and his own songs about Canada. Stuart Laughton is at home on many stages, whether playing guitar, mandolin and harmonica at the Edmonton Folk, Ottawa Blues and Mariposa festivals with the Porkbelly Futures band he founded, at New York's Lincoln Centre or Vienna's Konzerthaus with Canadian Brass, at Milan's legendary La Scala Opera (where he was principal trumpet at age 23), or most recently at his "home stage" in the Dora Keogh Irish Pub on Toronto's Danforth Avenue, where RADIO DIAL was born. Stuart's enthusiasms have also made him Founder and Artistic Director of The Forest Festival in Haliburton, Ontario.