Gary Smith rave reviews for Box and Toller
Out there on the Fringe: Three plays that take us on a journey of discovery
Gary Smith  The Hamilton Spectator, 16 Jul 2016
Gary Smith has written on theatre and dance for The Hamilton Spectator for more than 30 years.
There's diversity on The Fringe. Take Once I Lived in the Box, a contemporary dance drama that asks you to feel drama through movement. Or Toller, a second look at a troubled genius who made skating look easy and life look hard. And then there's Anybody Else, Ryan Sero's biting comedy about art versus commercial success. Even Sigmund Freud turns up in that one.
These are three distinctly different, but compelling human journeys that tell us we're alive and thinking somewhere on The Fringe.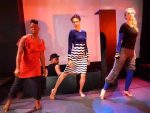 Once I Lived in the Box is an intimate, intensely personal dance drama where movement says what words cannot. Learie Mc Nicolls and four outstanding female performers take us to the edge of personal discovery, forcing us to escape theatrical stereotypes and confront our personal psyches. Mc Nicolls' choreography gives his dancers freedom to express who they are; each being a different and skilled artist who lets movement take her to a private, enigmatic place.
Angela Del Franco, statuesque and lean, has something of a Martha Graham sensibility about her, warm and cool at the same time. Sharon Harvey is a compact firebomb of a dancer who eats space. And somewhere in between such polarities is Tanis Macarthur, a pale presence who moves like a spectre connecting this world with some other time and place.
Mc Nicolls' world of demons and darlings, set free in a performance that's honest and pure, is enticing. And when the man himself puts on his familiar black derby he moves like a cross between a Bengal tiger and some latter day Mr. Bojangles: pure honey dripping from a spoon. Jamila Bello adds occasional words of wisdom via spoken raplike passages that bookend the performance.
Sophisticated and startling, Once I Lived in the Box plays at Artword Artbar, 15 Colbourne St., July 19 to 22 at 9 p.m. and Sat. July 23 at 6 and 9 p.m.
Back in Hamilton for a second time is Sky Gilbert's poetic drama Toller. If you missed it before, this is a perfect chance to catch one of the best works of the season. A tortured genius, Toller Cranston was a remarkable painter and a brilliant ice skater. He was a man who saw life through the opposite end of the telescope. His own emotions, sexual identity and theatrical attitude were simply part of his genius and Gilbert's play. Here is a dazzling picture of the artist as a troubled human being. Imaginatively directed by Gilbert, and acted with great understanding and simplicity by David Tomlinson, Toller is luminous. It's something Hamilton Fringe should be proud of. It's at Artword Artbar, July 16 at 4 and 8 p.m. and July 17 at 2 p.m. For goodness sake, go see it.
Anybody Else is the latest work from playwright Ryan Sero. If you know anything about his kind of theatre you'll know to expect quirky laughs, fast-paced dialogue and a very sexy edge. Thaddeus Blume (Sero) has plenty of angst. He's infatuated with artist Josephine Kael, played by loose-limbed, quixotic Pamela Gardner. You could say Sero's play is about a search for happiness, maybe even love. You could say it's about finding out who you are. You could say it's Woody Allen searching for the meaning of life, love and comedy, though not necessarily in that order. Sean Emberley's Sigmund Freud is along for the ride, too. So is Tiresias from Oedipus Rex. Well, that's just the kind of crazy play Anybody Else is. Finely acted by three strong players, directed with restraint by Tyler Brent, it's a play that asks questions. What is mediocrity? Do artists really reveal truth? What is real and what is pretense? And what, for that matter, is happiness? Is Sero's play a farcical adventure with a serious undertow? Or is it a serious undertow in search of a farcical adventure? Only Woody Allen knows for sure. It's at the Theatre Aquarius Studio, July 16, 9:30 p.m.; July 17, 2 p.m.; July 19, 7:30 p.m.; July 22, 4:30 p.m.; July 23, 7:30 p.m.; and July 24, 3:30 p.m.