March 2nd, 2018
Comments Off

on Theatre: Swingin' In St. John's, the Musical, April 3 to 15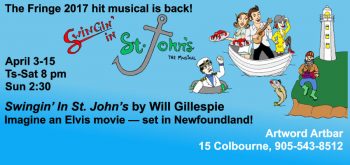 Tuesday April 3 to Sunday April 15, 2018, Tues-Sat 8 pm, Sunday matinées at 2:30 pm. Tickets Tues & Wed $15, Thur-Sun $25. Reservations call 905-543-8512 or


Book online
The Fringe 2017 hit musical Swingin' In St. John's returns for a two-week run at Artword Arbar. What if they made an Elvis movie — set in Newfoundland? It's back and bigger than ever! More singin'! More dancin'! More swingin'! Two brand-new songs, plus the 16 original songs and two Newfoundland classics. Come get Screeched In with us!
Artword Theatre presents A Chasing Shadows Production: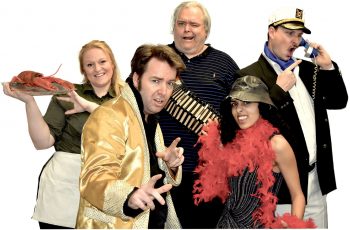 Swingin' In St. John's.
Starring Will Gillespie, Rebecca Gilbert Millar, Leonard Cain,
introducing Mariam Bekhet, with Brian Morton as 'Old Salty',
and Susan Robinson as 'The Lobster'.
Written, composed, designed & choreographed by Will Gillespie.
Paintings, props and puppets by Susan Robinson.
Video and lighting technician Judith Sandiford.
In the late 1950's and early-to-mid 1960's Elvis Presley starred in some 30 movies. Many of these were campy, light-hearted romps, musical romantic comedies based on what was called the "Presley Formula": exotic locales, beautiful co-stars and fun songs that blended Rock & Roll with styles inspired by the locations and themes of each movie. What if one of these films was set in Newfoundland? "Swingin' in St. John's" is a new stage musical that answers that question. Read more…