June 9th, 2017
Comments Off

on Blue Moon Marquee, gypsy blues jazz, Sat July 15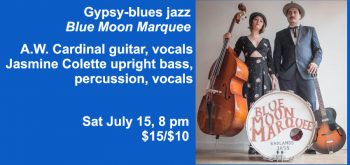 Saturday July 15, 2017, at 8 pm, $15/$10. Gypsy-blues jazz duo
Blue Moon Marquee
(
A.W. Cardinal
guitar, vocals and
Jasmine Colette
upright bass, percussion, vocals) are swinging by Artword Artbar! This authentic duo writes and performs original compositions influenced by early blues, folk roots, swing, and ragtime. This year they are playing at seven Jazz festivals across Canada (Vancouver, Victoria, Saskatoon, Toronto, Ottawa, Montreal, Kaslo). They have also been nominated for Indigenous Group of the year for the 2017 Western Canadian Music awards. Stemming from the Badlands of the Rocky Mountain prairies,
Blue Moon Marquee
is a self-styled gypsy blues band.
A.W. Cardinal
, a Metis of Cree heritage, howls with a distinctive thick and smoky vocal while playing a jazz tinged blues guitar.
Jasmine Colette
, aka Badlands Jazz, is the rhythm section who not only commands the upright bass but also keeps the swing with both feet while singing harmonies.
Blue Moon Marquee
's passionate performances and smouldering onstage chemistry are their trademark. 
www.bluemoonmarquee.com
https://bluemoonmarquee.bandcamp.com/
 "The spirits of Memphis Minnie, Louis Armstrong, Read more…