April 24th, 2017
Comments Off

on Singer-Songwriters NLX, Tara Holloway, Sammi Morelli, Wed May 24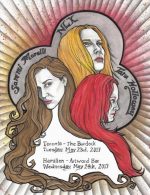 Wednesday May 24, 2017 at 8 pm, $10. To reserve in advance call 905-543-8512, or

Book online
Three singer-songwriters team up for a great night of music. NLX from Hamilton, now NY-based. Tara Holloway now back in her hometown Ottawa. Sammi Morelli  from BC.
NLX (http://www.nlxmusic.com) Raised in the icy shadows of Canada's steel city smoke stacks, NLX hails from the proud tradition of BS-free northern songwriting women. Though her roots may be in Canada, the branches reach out towards New York City; where she wrote and recorded most of her latest offering, Luxury of Failure. Production began in an old church in Hudson, NY with nothing but a focus on microphones, drums, strings and a piano. The result was a record that took root in something really raw and tactile.
Tara Holloway (http://taraholloway.com) Tara Holloway, the power-house folk-noir and pop songwriter with the raspy voice, has a regular job driving trucks for a catering company, after two decades of cross-country touring, dive motels, and couch surfing. Two years ago, she released the plaintive and pained stunner Little Ghosts on Vancouver's Light Organ Records. She has since parted in favour of going it on her own. Expect her new EP, out this summer, to explore the push-pull between staying put and an inherent, all-consuming wanderlust.
Sammi Morelli (http://www. sammimorellimusic.com) Sammi Morelli is an award-winning Canadian pop singer/songwriter who seamlessly blends multiple genres with her fierce voice, fresh lyrics & sticky hooks. "Sammi Morelli is a voice Canada will one day boast about," her collaborator and mentor Laurell Barker exclaims, "Her buttery tone, diva agility and tasteful, sensual lyrical interpretations make something of a phenomenon when she opens her mouth to sing."  Winner of Best Female Vocalist at 2015's Niagara Music Awards, she's often likened to powerhouse artists like Alicia Keys, Adele & Pink!