December 20th, 2016
Comments Off

on Queens of Quirk, Sat Feb 4, 2017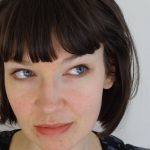 Saturday February 4, 2017, at 8 pm. Tickets $20, book online: https://www.bruha.com/event/523#tickets


Hanna Bech hosts a new edition of Queens of Quirk, an evening celebrating the (un)conventionally cool. This time the evening involves music, silks, comedy and a radio musical. Tonight's Queens:
Hanna Bech, songwriter/piano player, is a professor of whimsy, and a diviner of hooks;
Pamela Gardner is a velvet-voiced flying songbird and member of HAG (Hamilton Aerial Group);
Mary Clements is debuting as a songwriter, whose folky piano tunes will remind you of musicals;
Radha Menon, playwright, brings a staged reading of her original radio musical Circles, set in ancient Sicily, about a deserting Roman soldier, an Archimedes groupie and a singing cyclops. Book and script by Radha Menon and music composed by Hanna Bech.