June 10th, 2016
Comments Off

on DANCE: Once I Lived in the Box, FRINGE: July 19, 20, 21, 22, 23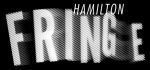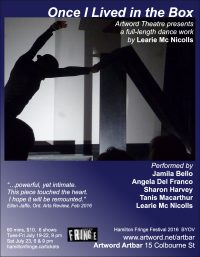 SIX SHOWS: Tues- Fri July 19-22, 2016, at 9:00 pm; Sat July 23 at 6:00 & 9:00 pm. Running time 60 minutes.
Tickets $10: hamiltonfringe.ca/tickets/
or at door.
Artword Theatre presents Once I Lived in the Box, a dance work by Learie Mc Nicolls,  for the 2016 Hamilton Fringe Festival.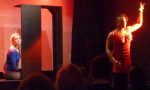 Dancer and choreographer Learie Mc Nicolls has created a full-length dance piece about vulnerability and trust. The piece is danced by Angela Del Franco, Sharon Harvey, Tanis Macarthur, Jamila Bello and Learie Mc Nicolls, in a sequence of trios, duets and solos, that reveal different aspects of isolation and connection. Judith Sandiford is producer and lighting designer.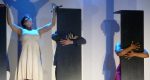 "Once I lived in the box/ hated the box/ loved the box/ respected the box/ got angry at the box… "
Photos right are from the presentation at Artword Artbar in Feb 2016.
REVIEW: "Learie Mc Nicolls' newest creation, Once I Lived in the Box, at Artword Artbar [Feb 3, 4 and 5, 2016], was a powerful, yet intimate, piece of choreography… This piece touched the heart. I hope it will be remounted; it deserves a longer run and a larger audience." Ellen Jaffe, Ontario Arts Review