June 9th, 2016
Comments Off

on Sky Gilbert's Toller, Hamilton Fringe Fest, July 14, 15, 16, 17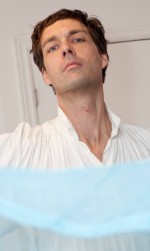 Thurs July 14 & Fri July 15 at 8 pm, Sat July 16 at 4 & 8 pm, Sun July 17 at 2 pm. Tickets $10: Hamilton Fringe website (http://hamiltonfringe.ca/tickets/) or at the door.
Venue: Artword Artbar, BYOV.
TOLLER, about figure-skater Toller Cranston. The play, premiered in November 2015 at Artword, is written and directed by Sky Gilbert, produced by hammertheatre, and stars David Benjamin Tomlinson in the role of Toller. The play is a fictional one-act presentation in which Toller Cranston muses on his life and times. It is inspired by Cranston's 1997 memoir Zero Tollerance: An Intimate Memoir by The Man That Revolutionized Figure Skating. Toller Cranston died suddenly in 2015 at a relatively young age of 65. The Olympic Bronze medalist, born in Hamilton, was always a controversial figure. Sky Gilbert considers Toller Cranston as an historical gay figure much in the 'old school closeted' style of Noel Coward and Liberace. Uncomfortable with gay liberation, Cranston instead preferred to position himself as a creative outsider rather than as a homosexual.
Gary Smith (Hamilton Spectator) chose "Toller" as one of the Ten Best of 2015: Read more…