Jazz: Nick Maclean Quartet, Thurs Sept 20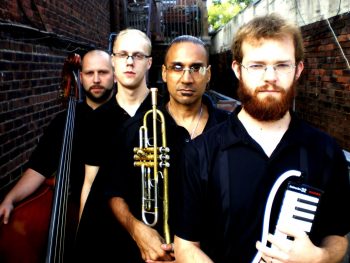 Thursday September 20, 2018 at 8 pm, $15/10. Jazz with the Nick Maclean Quartet: Nick Maclean piano, Brownman Ali trumpet, Jesse Dietschi bass, Tyler Goertzen drums.
The award-winning Nick Maclean Quartet makes Artword Artbar the second stop of their September tour. Led by 26-year-old fast-rising piano star Nick Maclean, this contemplative and often thrilling quartet explores modern jazz in the vein of 60's Blue Note era Herbie Hancock. The quartet features Brownman Ali, internationally acclaimed jazz trumpet iconoclast and "Canada's preeminent jazz trumpet player" (NYC Village Voice).
Tyler Goertzen – drums