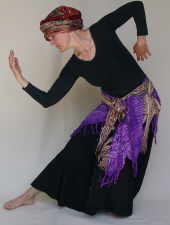 Artword Theatre (Alternative),
75 Portland St, Toronto
October 1, 2005 at 7:45 pm

Penn Kemp and Ardeleana
Trance Dance Form: a sound opera
by Penn Kemp
Notes from the Underworld
by Brenda Muller
$12 regular / $10 students/seniors
at the door only.
*Pendas Productions presents Penn Kemp's sound opera, Trance Dance Form with actor Anne Anglin, poet Penn Kemp, ceillist Brenda Muller & dancer Wave Weir.

"This mystical magickal paean cast a spell with Kemp's incantatory phrases, Brenda Muller's responsive cello and voice, and Wave Weir's fluid illustrative dance. As celebrant/ audience, we were part of the raising of a cone of power, carried along a journey into the timeless infinitely deep world-between-the-world." i Pop Ping, Sept.2005.

Trance Dance Form, directed by acclaimed actor Anne Anglin, has been performed at Harbourfront and at Véhicule Gallery, Montreal, as well as Parry Sound's Station Gallery. Sound Opera is a new form Kemp has developed with Anglin in performance & recording over the last three decades, in a desire to lift poetry from page to stage. Sound Opera is based on text but it expands poetic possibilities to include voice, music & movement, to express narrative when emotions burst the seams of print. It's a hoot to hear!
*The Ardeleana Trio performs Brenda Muller's Notes from the Underworld with singer Ramona Carmelly, pianist Catherine Maguire, flutist Angela Hammar & composer/cellist Brenda Muller.

"Brenda's songs and Ardeleana's performances of them are magical. These songs artfully blend different genres and styles, which is why I find them so appealing. And I love that Brenda tackles unusual subject matter with a range of tone, from saucy wit to anguished emotion. It's clear this music comes from a very deep, heartfelt place." Marie Lynn Hammond
see http://www.mytown.ca/pennletters/ and http://www.ardeleanamusic.com