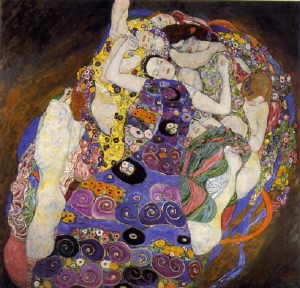 Artword Theatre,
75 Portland St, Toronto
Sept 15 to Oct 9, 2005
Glastonbury West in association with Naked in the Wings present
The Affairs of Anatol
by Arthur Schnitzler
Adapted by Harley Granville Barker
Produced by Carroll Bishop
Directed by Sue Miner
Set design by Jackie Chau (inspired by Gustav Klimt)
Costume design by Victoria Wallace and Erika Connor
Lighting design by Gavin McDonald

Advance tickets at the TOTix Booth in Dundas Square or TOTix online
John O'Callaghan stars as the playboy Anatol in Arthur Schnitzler's brilliant play cycle THE AFFAIRS OF ANATOL, in fin-de-siecle Vienna.. The seven women in Anatol's life are played by Marie Beath Badian, Kim Kuhteubl, Lindsay McMahon, Stacie Mistysyn, Tara Samuel, Darlene Spencer and Kathryn Winslow.

"Schnitzler's life was as X-rated as his work; his dramas are about the flesh and describe our carnal urges clinically, without squeamishness. Here, we watch the eponymous Viennese playboy seduce seven women. Each time, Anatol seeks escape from the barren elegance of his bachelor existence. The rake's best friend looks on, alternately appalled and amused. Stanley Kubrick turned another Schnitzler work into Eyes Wide Shut, and the same dreamy, sinister sexiness pervades this drama." -Alec Scott, Toronto Life, September 2005

Young Dr. Schnitzler (1862-193l) became one of Austria's leading playwrights, anticipating the discoveries of his fellow Viennese Dr. Sigmund Freud. One of the few writers who superbly handles inner conflict and ambiguity, in the very first scene, Schnitzler deliciously sets up what became his underlying theme: the struggle for love and power between the sexes. Originally published in 1892, THE AFFAIRS OF ANATOL continues to be as relevant as ever due to Schnitzler's wit, insight, and grasp of the relationship between the sexes in a manner daring for his time.
John O'Callaghan ... Anatol
James Murray ... Max
Marie Beath Badian ... Annie (Mimi)
Kim Kuhteubl ... Cora (Hilda)
Lindsay McMahon... Bianca
Stacie Mistysyn ... Elsa
Tara Samuel ... Emilie
Darlene Spencer ... Ilona (Lona)
Kathryn Winslow ... Gabriele
Daniel Abrahamson... Franz/Waiter

Glastonbury West (www.glastonburywest.com)
Media Contact: Dianne Weinrib, Amy Stewart - DW Communications 416-703-5479 dw@dwcommunications.net