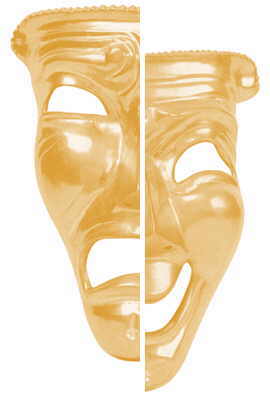 Artword Alternative Theatre,75 Portland St, Toronto
April 8 to May 1, 2005
Pleiades Theatre presents
The Seven Days
of Simon Labrosse
by Carol Fréchette, translated by John Murrell
directed by Michael Shamata
starring Paul Fauteux, Michael Hughes and
Manon St-Jules
Previews April 8-10, $15 at door
Tues-Thurs 8pm $25; Fri-Sat 8pm $30;
Sundays 2:30 pm PWYC,
To reserve: 416-366-7723 ext 290 (St Lawrence Centre Ticket Line) or book online
or for this show only online at www.totix.ca
"...a hilarious comedy that veers from slapstick to droll. But there is another play operating simultaneously within this comedy. It is a play about the battle of creative minds to conquer despair." Paul Gessel, The Ottawa Citizen
In a fitting tribute to the late Bill Glassco, The Seven Days of Simon Labrosse makes its first Toronto appearance in a revival of a recent production by The Montreal Young Company (and Gravy Bath Productions). The final project of Glassco, founder of the Tarragon Theatre and The Montreal Young Company and co-founder of CanStage, was to produce this play by Carole Fréchette, one of Québec's most internationally performed playwrights. Michael Shamata has taken on the direction, with a cast assembled by Glassco: Paul Fauteux, Michael Hughes, and Manon St-Jules. Pleiades is thrilled to celebrate the legacy of Bill Glassco, the indefatigable champion of Canadian theatre.


The Seven Days of Simon Labrosse is a darkly comic play about the psychological effects of feeling useless in the world. Simon Labrosse, an unemployed young man, invites the public to witness a few scenes from his life, enacted with the help of his reluctant friends, Leo, the gloomy poet, and Nathalie, the fanatical personal development enthusiast. Inventive and doggedly optimistic, Simon shares his plans for reinsertion into public life. By turns emotional stunt-man, finisher of sentences, ego-enhancer and emptiness eradicator, he desperately tries to find his place in society. Under the constant pressure of failure and rejection, Simon's faith eventually weakens until in complete seclusion, without money and homeless, he offers his last value: himself.


Internationally recognized playwright Carole Fréchette's Governor General's Award-winning The Four Lives of Marie garnered eight Dora Award nominations and won the 1998 Chalmers Award for Best New Play. Her other plays include Elisa's Skin and The Seven Days of Simon Labrosse – both nominated for Governor General's Awards – along with Jean de Béatrice, which opened at Theatre d'Aujourd'hui in March of 2002. In that same year, Carole Fréchette was the first winner of the Siminovitch Prize for playwriting.


Michael Shamata's production of Who's Afraid of Virginia Woolf? was nominated this year for a Montreal Masque Award for Outstanding English Language Production. Other recent credits include Hosanna (Manitoba Theatre Centre), Much Ado About Nothing and The Comedy of Errors (Bard on the Beach, Vancouver), Pélagie (Can Stage & National Arts Centre), The Music Man (Vancouver Playhouse), Walk Right Up (Stratford Festival) and his own adaptation of A Christmas Carol (Soulpepper). His productions have won numerous awards including Outstanding Production in Vancouver (Fiddler on the Roof, Vancouver Playhouse), Ottawa (Kilt, Great Canadian Theatre Company) and Toronto (A Little Night Music, CanStage). Shamata is the former artistic director of both Theatre New Brunswick and the Grand Theatre in London, Ontario. He dedicates this production to the memory of Bill Glassco.