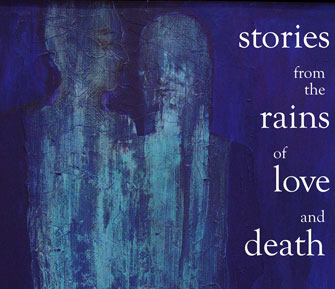 Artword Theatre main, 75 Portland St
October 31 to November 23, 2003
Modern Times Stage Company presents
the world première of
Stories of the Rains of Love and Death
by Iranian playwright Abas Na'lbandian
translated and adapted by Soheil Parsa and Peter Farbridge
directed by Soheil Parsa
Previews Oct 31, Nov 1 & Nov 4 at 8 pm, Nov 2 at 2:30: $15.
Opens Wed, Nov 5 at 8 pm
Tuesday to Thursday at 8 pm: $20
Saturday matinee at 2:30: $20
Friday and Saturday at 8 pm: $25
Sunday matinee, 2.30 pm: pwyc
Banned in Iran and never performed, the play is a quintet of interrelated one-act plays. Na'lbandian asks the questions "What is truth?" and "What is reality". An absurdist work that explores a new kind of cause and effect within universal themes - sexuality, violence, power, fate and death.
Ensemble Cast: Stewart Arnott, Nita Costa, Mark Ellis, Peter Farbridge, John Gilbert, Daniel Karasik, Stavroula Logothettis and Andrew Scorer.
"Holds its own against any production in town." -- eye Weekly
"Magnetic performances, burnished production." -- Now magazine
Following a sold-out workshop engagement at Toronto's 2002 Summerworks Festival, the international award-winning Modern Times Stage Company presents the English-language world premiere of "Stories from the Rains of Love and Death."


Translated and adapted by artistic director Soheil Parsa and associate artist Peter Farbridge, "Stories From the Rains of Love and Death" was written by Persian playwright Abas Na'lbandian. Na'lbandian was one of Iran's most controversial and prolific playwrights. Born into a very poor family, as a boy he found an appreciation for literature and an understanding of the human condition peddling newspapers for his father on the streets of Tehran. Without any theatrical background or training to speak of, he began writing for the theatre and was eventually discovered by avant-garde directors and writers at the forefront of Iranian experimental theatre in the 1970's.


"Stories", a quintet of interrelated one-act plays, was written in 1977. It's a world both mysterious and profound; a world where reality and time are fluid; a world out of control. Na'lbandian's characters are gripped by forces and events beyond their capacity to comprehend. Emotionally raw and psychologically unfathomable, they struggle to find reality and solve the riddles of life in environments that conspire to prevent them.


Na'lbandian's plays did not gain the recognition of the Iranian intellectuals of his day, as he refused to write according to their Marxist-Leninist leanings. Following the Islamic revolution of 1979, Na'lbandian's works were declared immoral and banned. Imprisoned several times during the bloody years of the Iran-Iraq war, and deprived of a creative outlet, he killed himself in 1989. Arguably his most accomplished piece, "Stories of the Rains of Love and Death" has never before received a full production in Iran, or anywhere else in the world.


Renowned for stunning design elements and extraordinary ensemble work, Modern Times has received over 20 Dora nominations and awards since its inception. Last season, the company garnered seven Dora nominations for the Toronto production of Ionesco's "The Chairs." The company has attained international acclaim with Soheil Parsa receiving a Director's Award for the Persian fable, "Aurash," at the Fadjr International Theatre Festival in Tehran, Iran in February 2002. The production was sold-out and played to enthusiastic audiences. The company was asked to return in 2003 with its much-praised production of "Macbeth" playing once again to sold-out houses. The final performance managed to squeeze 500 people into a 200-seat theatre and 200 additional people were turned away.

Set design for "Stories" is by David Skelton, costume design by Angela Thomas, lighting design by Andrea Lundy, Thomas Payne is the sound designer and Tamerrah Volkovskis is the stage manager. Laurel Smith is the producer.
For more information, For more information, please call (416) 657-4344 or visit the Modern Times Stage Company website.