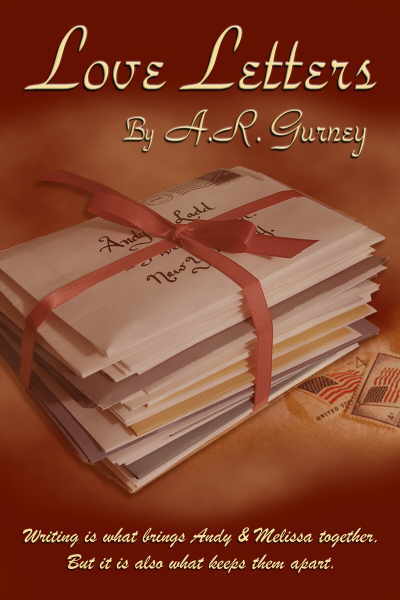 Artword Alternative, 75 Portland St
Feb 12 to 29, 2004
Lucard Theatrical Ltd. presents
Love Letters
written by A. R. Gurney
directed by Alexander Galant
performed by D. Kirk Teeple
and Carmen Gillespie
Writing is what brings Andy and Melissa together. But it is also what keeps them apart.
Thurs at 8 pm: $20 / $17 ss
Fri & Sat at 8 pm: $25 / $20 ss
matinees Feb 14, 15, 22, 29 at 2:30 pm: $25 / $20 ss
Note: Extra matinée
on Valentines Day!
Feb 22 & 29 at 2:30 pm: unsold tickets pay-what-you-can at the door one hour before.
Advance reservations, call the St. Lawrence Centre Ticket line 416-366-7723, ext 290.
For dinner package reservations, call 416-408-1146
What is Love Letters?
From the Dramatists Play Service listing: "A unique and imaginative theatre piece which, in the words of the author, "needs no theatre, no lengthy rehearsal, no special set, no memorization of lines, and no commitment from its two actors beyond the night of performance." The piece is comprised of letters exchanged over a lifetime between two people who grew up together, went their separate ways, but continued to share confidences. As the actors read the letters aloud, what is created is an evocative, touching, frequently funny but always telling pair of character studies in which what is implied is as revealing and meaningful as what is actually written down."
---
Book jacket notes: "In such critically acclaimed plays as The Dining Room and The Cocktail Hour, A.R. Gurney has wittily captured the manners of upper-middle class WASP America, but never as gracefully or with such dazzling economy as in Love Letters. Tracing the lifelong correspondence of the staid, dutiful lawyer Andrew Makepeace Ladd III and the lively, unstable artist Melissa Gardner, the story of their bittersweet relationship gradually unfolds from what is written -- and what is left unsaid -- in their letters."
---
from a review by Jenne Tessa Fox: "Love Letters is arguably A.R. Gurney's best-known play, performed constantly all over the world since its premiere fifteen years ago. It is at once beautifully simple and frighteningly complex: two actors sit, with scripts on music stands, and read aloud the titular letters that Andy Ladd and Melissa Gardner write to each other over the course of their lives. Gurney's characters are wonderfully deep, and portraying their lives, from childhood to old age, is a true challenge for any actor."
---
from play notes of a performance at Mercy College, New York: "The play has been hailed by audiences and critics for its insightful penetration of "the intrinsic qualities of love, life and humanity." Unlike Gurney's earlier plays, The Dining Room and The Cocktail Hour, the emphasis in Love Letters is with the human condition and the relationships people form rather than on social comment and wit. Opening in New York in 1988, Love Letters starred John Rubinstein and Joanna Gleason as the play's two "deeply entwined soulmates" whose destiny may be to find intimacy and happiness together. Through their letters to one another, these friends seem to "rebound consistently, always wondering internally where their relationship is taking them. Along the way, there are hopes, triumphs and tragedies.""
---