[Information about the 2002 tour f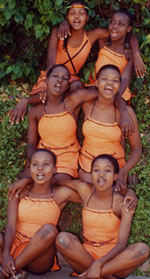 rom www.zimtalk.com
Inkululeko Yabatsha School of Arts (IYASA) was formed in 1998 as Mpopoma High School Drama Club. It grew to unprecedented heights in Zimbabwean theater and could no longer be confined to the original school. It then turned professional. Within a year it had toured Swaziland, South Africa and Botswana. In the third year it toured Seattle in the U.S.A. In the same year it released a music cassette entitled Amunati Fela. In 2002 it worked on its second music release and launched its Africana-Americano CD in New York during its 2002 U.S.A. tour.


IYASA is currently operating five programs which are theater, dance, music, workshops and poetry. Although these programs can be treated separately, the group's productions are interdisciplinary and incorporate most of these programs in a single production.
Theater – the current play is Africana-Americano.
Dance – under the program title of Welcome to Africa, IYASA does a routine of traditional dances from Africa.
Music – currently IYASA has made two recordings, Amunati Fela and Africana-Americano as sound tracks of its productions.
Workshops – the program facilitates the sharing of ideas and skills as the group conducts workshops in African dances and drumming.
Poetry – there is also a poetry program which often combines with drama skits especially for street performances.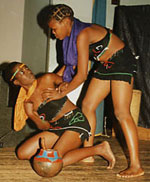 Africana-Americano is an intriguing music and dance love story. Africana is born in a culturally rich African village. She grows to love and appreciate her people's music and dances. When she flowers she meets Americano. They wed in the village and leave for U.S.A. Will Africana survive the vicissitudes of a post-modern space?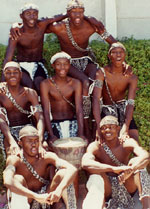 The cultural heritage dances that form part of IYASA's dance program are listed and explained briefly below. These are high energy up-tempo entertaining dances suitable for the family.


Muchongoyo is a Shangani people's dance found in the south-eastern parts of Zimbabwe. It is a war dance that demonstrates fighting skills. Warriors gather before their king and demonstrate how they would fight in a war. This way the warriors gain confidence and go into the war as a strong force. There is also a version of this dance called Muchongoyo Chingomana, which the warriors perform after winning the war. This is a kind of a demonstration of how the warriors were fighting.


Jerusarema is found among the Zezuru people of central northern Zimbabwe. The dance is basically an exhibition of sexual prowess. Individual men and women boast of their sexual prowess and challenge each other to a "contest". They then dance the sexual encounter and, more often than not, the men are defeated by their mates and they stagger away, ashamed of themselves.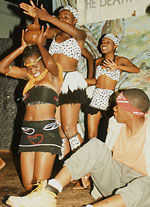 Amabhiza is a Ndebele people's dance found in the south western parts of Zimbabwe. The dancers play horses. The dance has militaristic connotations as horses have at times been associated with military expeditions.


Isitshikitsha is originally a South African dance of the Zulu people. It came into Zimbabwe through the northward migration of the Ndebele people as they escaped Shaka Zulu's empire to found their own Ndebele Kingdom under Mzilikazi kaMatshobana. In the original set-up the dance was performed at the festival of the first fruits.


Contemporary African Dance: IYASA also has a highly creative repertoire of contemporary dances choreographed from the heritage and other popular dances.
For more information, call 416-239-2057