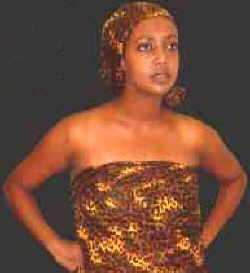 At Artword Theatre mainspace, 75 Portland Street
October 8 to 26, 2003
The AfriCan Theatre Ensemble presents
Anowa
a play by Ghana 's leading writer Ama Ata Aido
directed by Rhoma Spencer
Previews Wed, Oct 8 and Thurs, Oct 9 at 8 pm: $10.
Tuesday to Thursday at 8 pm: $20
Friday and Saturday at 8 pm: $25
Sunday matinee, 2.30 pm: pwyc .
Student/seniors all shows (exc. prev. & Sun): $17
Anowa runs 2 hrs incl. a 15-minute intermission
To reserve call the St. Lawrence Centre Ticket Line
416-366-7723 or book at StL online:
The AfriCan Theatre Ensemble (ATE) commemorates its fifth anniversary season with the Canadian premiere of Anowa, a play by Ghana 's leading writer Ama Ata Aidoo, who will travel from Accra to attend the performance as a guest of the Company.
Set towards the end of the 19th Century in what was then the Gold Coast, this lyrical tragedy tells the story of a young girl who defies her parents to marry the man of her choice but does not live happily ever after." Anowa portrays the universal emotion which we call love in its gripping forms: courtship, altruism, self-love … Aidoo 's dramatic transformation of the popular West African folktale gives us a slice of Ghanaian life, and lovingly embraces its audience through its entertainment and its enduring message that no one ought to be a slave." – Modupe Olaogun, Artistic Director, ATE.
The play is directed by Rhoma Spencer who is in her third season as Resident Director/Manager at ATE. Ms Spencer directed And the Girls in Their Sunday Dresses by South African playwright Zakes Mda, and the Company 's staged reading of her play Lawino and Ocol at the recently concluded AfriCanadian Playwrights Festival. She will make use of a Greek-styled chorus, the movement of the Ashantis and music to inform her directorial approach to Aidoo 's drama.
Playing the title role of Anowa is Rebecca Fisseha (Things Fall Apart) and in the role of Kofi Ako, Anowa 's husband is Lucky Ejim (God Don 't Like Ugly, Things Fall Apart).Other supporting cast members include d 'bi young (Da Kink, yagayah), Arthur Lee Rose (Hot Feet, Ain 't Misbehavin) and Lua Shayenne (Zigga, As You Like It).
For more information visit the AfriCan Theatre Ensemble website.