princess productions presents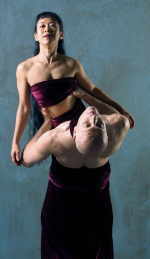 Stone Velvet
Artword Theatre 75 Portland St.
July 19, 20, 21 at 8 pm
Tickets: $15 adults / $12seniors/cada/students/$10 group rate
Box Office : 416-408-ARTD
Blazing choreographer, performer, and her company, princess productions presents an evening of solos and duets choreographed by Tedd Robinson, " …a special sort of genius who overwhelms us with his visual and corporeal inventions." CBC Radio, fast emerging choreographer, Kathleen Rea, 'awesomely talented' Learie McNicholls and Ng. This special programme featuring performances by Robert Glumbek and Yvonne Ng, will be presented at Artword Theatre, July 19 - 21st at 8pm
These works created especially for Glumbek and Ng lead to an enticing realm that highlights their onstage electricity. An evening surely not to be missed.
Yvonne Ng - intense, grace, mesmermizing.
Robert Glumbek - strong masculine presence, bravado, precision, intense.
Both demonstrate their versatility as performers by this evening of work. Their interpretation of the work has helped them evolve and transform as performers and these collaborations are a celebration of performance.
---
Programme

Quelling (world premiere)

Choreographer: Kathleen Rea
Dancers: and Robert Glumbek

Her weight on his body
He is able to ignore, as he quells
his internal world but
her moves
like a gentle tapping slowly
wake him from his reverie.

An exploration of symbiotic relationships - Ng and Glumbek are mesmermizing. Rea's work explores the hunger for spirit, or the longing for purpose in our lives. She captures through movement how the individual moves between hope and hopelessness in the effort to find meaning in life.

Solo

Choreographer: Learie McNicholls
Dancer: Robert Glumbek
A work created for Robert Glumbek - a study of the ageing dancer. A demonstration of Glumbek's bravado and precision.

Stone Velvet (world premiere)

Choreographer: Tedd Robinson
Dancers: Yvonne Ng and Glumbek

A duet created for Ng and Glumbek - a complex relationship that evokes wisdom, wonderment - a mixture of humour/sadness. Tedd Senmon Robinson's has developed a work using the environment of the dancers and the space to feed the content of the work.

Garam Shift (2001)

Choreographer: Tedd Robinson
Dancer: Yvonne Ng

Conceived and performed by Yvonne Ng, this work references the Wu Xing; the five elements that the ancient Chinese believe composed the physical universe. The Book of Documents tells us: 'water is said to soak and descend; fire is said to blaze and ascend; wood is said to curve or be straight; metal is said to obey and change; earth is said to take seeds and give crops' - translated by Karlgren

The work draws from the five elements and their circular interrelationship to weave ancient stories and contemporary sensibilities. Collaborating with Caroline O'Brien and Juliet Palmer, Ng's work evokes and provokes. It is constantly shifting like a wheel turning or the cylces of seasons.