MOonhORsE dance theatre presents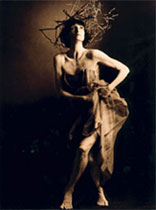 Small Midnight
Preview: Tuesday May 29th, 2001 @ 8:30pm $10.00
May 30th-June 2nd, 2001 @ 8:30pm $12.00/$17.00
Saturday June 2nd matinee @ 4pm PWYC
Artword Theatre, 75 Portland Street
Box office: 416-408-2783
MOonhORsE dance theatre's Artistic Director Claudia Moore is pleased to announce the world premiere of Small Midnight, May 29th-June 2nd at Artword Theatre. (Photo right by John Lauener)
Small Midnight is a series of solos and duets co-choreographed by Ottawa based luminary Tedd Robinson and Toronto's own Claudia Moore. An evening of whimsical behaviour and delicious encounters, Small Midnight is spiced with a magical charm.
Combining Robinson's masterful choreography with Moore's signature dance theatre Small Midnight follows the private musings of two couples. The details of these relationships are revealed through movement and gesture-unpredictable, curious and intimate.
MOonhORsE dance theatre was established in 1996 by Claudia Moore and since its inception the company has created a unique body of dance theatre, with 1998's wishes winning the Dora Award for Best New Choreography. Tedd Robinson is Artistic Director of Ottawa's 10 Gates Dancing and first worked with Ms Moore in 1993 on her solo show Horse on the Moon. His work has received international recognition, most recently in Japan with Harbourfront's CJ8 project.
Small Midnight features an outstanding ensemble of dancers - Fiona Drinnan pairs with Claudia Moore and MOonhORsE newcomer Miko Sobreira pairs with Bonnie Kim. Set design is by Julie Fox, costumes by Heather MacCrimmon and lighting design by Roelof Peter Snippe.
Small Midnight is a GO 7 event
Across Oceans/the At Home festival
Media contact: Keith Cole 416-944-0077