---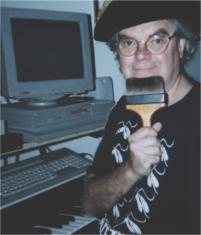 A weekly Sunday evening series of explorations in new music, combined with other art forms, begins at Artword Theatre on October 8, 2000, at 8 pm. Eugene Martynec, a composer specializing in real-time interactive electro-acoustic music, is the guiding spirit of the concerts, which will be called Eugene's Sunday Series.
"I was in Barcelona for two years," Eugene explains. "There's an exciting scene for new improvised music and dance in that city, and I became involved in ongoing explorations with some fine musicians. When I came back to Toronto, I wanted the same excitement over here. So I approached Artword, and here we go."
---
October 8, 2000: Pieces of Eight
The inaugural concert, Pieces of Eight includes eight music luminaries: Ronda Rindone, Maury Coles, Tomasz Krakowiak, Nobuo Kubota, Allan Molnar, Kazumi Tsuruoka, Mike Hansen and Kay Marshall, as well as Eugene Martynec himself.
---
October 15, 2000: Poetry and Music
The October 15 concert features poetry by Gwendolyn McEwen and Richard Brautigan, performed by actor Robin White to improvised musical accompaniment by Allan Molnar, Eugene Martynec and others.
---
October 29, 2000: Algorithmic Music
Discussion and performance of Algorithmic Music by Bruno Degazio. Bruno's latest work uses a person's astrological chart to generate music. Examples of Bruno's music will be aired and dancer Susan Main will perform to her chart. A video and performance of Albert Einstein's chart will demonstrate the software's abilities.
Also in concert: Ajax, explores a sound world previously only experienced when waking up disoriented on the middle of the night to find your radio left on and a "GO" train passing in the distance. Ajax is Mike Stafford on turntables and tapes and Shahin Etemadzadeh guitar and electronics. Special guest Eugene Martynec will perform the suburban wife duties.
---
November 5, 2000: This Moment
This Moment is Ronda Rindone's ensemble featuring Nick Fraser on tape manipulation, Rob Clutton on bass, special guest Tomasz Krakowiak on percussion , and Ronda Rindone on clarinet, bass clarinet, and voice. Ronda was the spirit behind the improvised music series at the Idler Pub for 2 years and has been very helpful in behind the scenes work in this series.
---
November 12, 2000:
Sonic and visual invasion by Dave Clark and The WoodChopper's Association, an artist's collective. "Our aim is to foster an atmosphere of adventure and creation; to break open our own boxes of expectation and preconception."
Opening will be composer, new music classic guitarist William Beauvais with electroacoustics of Eugene Martynec, the viola of Julian Knight and the world's quietist percussionist Tomasz "Shh" Krakowiak.
---
November 19, 2000: The Systematic Preservation of Chance
Jason Hammer presents The Systematic Preservation of Chance, an interactive multimedia performance art collaboration featuring musicians Colin Fisher, Glen Hall, Jason Hammer, and Geordie McDonald. Paint and video artist Darryn Rae, sculptor Jeremy Cox, actor Valentino Assenza, and dancer with theremin Diane Chapitis.
---
November 26, 2000: Geordie Macdonald CD release concert on Artword's main stage.
---
December 3, 2000: Glen Hall's Redshift
Glen Hall's Redshift shifts into warp speed with a large ensemble consisting of Sook Yin Lee voice, the Rust Brothers turntables, Michael Occhipinti and Nilan Perera guitars, Michael Morse and Jason Hammer basses, Ravi Naimpally tablas drums, and Glen Hall on reeds.
Opening will be the Songs and Poems of Ronna Bloom accompanied by improvising/composer musicians Barry Espin vocals, drums, bass and Paul Newman, saxophones.
---
February 4, 2001: John Cage smiles down from heaven –
Prepared and electronically modified contemporary guitar music performed by guitar wizards Riener Weins, Nilan Perera, and Bill Parsons.
Also a sonic hurricane of virtuoso wind sounds from David Mott - baritone sax and Rhonda Rindone - bass clarinet. Contemporary improvised music by two world-class improvisers.
---
February 11, 2001: Quincunx
The Tomasz Krakowiak quintet, featuring music for mouth, mouse, discarded kitchen utensils, modified LP holder, and bunch of other neat stuff. The improvisers are Robin Buckley - percussion, Wm. Davison - found instruments, Paul Dutton - voice, Eugene Martynec - computer music, and Tomasz Krakowiak - percussion.
---
February 18, 2001: Sound poetry with prepared piano, piano, and prepared voice sounds
Sound poet Penn Kemp teams up with pianist, keyboardist and samplist Bill Gilliam to perform their intimate controlled improvised pieces using the human voice as sonic raw material and inspiration.
Also Alternate Controller Series No. 1. The mouse as an alternate controller for computer music. A discussion and demonstration by Eugene Martynec of some pieces utilising Midi-ax to perform interactive computer music.
---
February 25, 2001: Strings and Silicon
Cellist Kye Marshall teams up with bassist Jason "the hammer" Hammer and computer musician Eugene Martynec for an evening of improvised acoustic and electronically modified string music in solo, duo and trio settings.
PLUS - The Italian/Polish/French Connection: trombonist Doug Tielli, Eric Cheneaux on guitar and Tomasz Krakowiak percussion.
---
March 4, 2001: Musique Kontemporaine Improvasido by two ensembles.
6 Heads: Non idiomatic free improvisation using found sounds and hand built instruments. This musique concrete/sound collage ensemble features William Davison, Sherri Higgins, Colin Hinz, Pete Mosher, Linda Feesey, and Jim Bailey.
Also performing: the ever urgent Trio Rindone featuring Rhonda Rindone bass clarinet and voice, Tomasz Krakowiak on percusssion and multi instrumentalist Ryan Driver.
---
March 11 and 18: No concert
---
March 25, 2001: Jazz Standards? New approaches to American jazz standards
Bob Brough Trio, featuring George Koller on bass, Mark Adam on drums and Bob Brough on saxophone. A highly explosive and dynamic trio that explores, twists and reconstructs traditional jazz tunes with new contemporary insight.
On the same bill, another approach to standards by Campbell's Zuppa featuring opera singer Rod Campbell on Midi and analog processed voice, Rob Clutton on string bass, Tomasz Krakowiak on percussion and Eugene Martynec on interactive computer music system.
---
April 1, 2001: Jason Hammer's Big Band Massacre
Jason Hammer, bass, Colin Fisher, guitar and sax, Mark Hundevad, drums, Geordie McDonald, percussion, Rhonda Rindone, bass clarinet, Glen Hall, saxes and flute, Eugene Martynec, sampler/computer.
---
April 8, 2001: Saxophone in Duo /Trio settings
John Oswald and Nobuo Kabota: Saxophone and sound poetry by two masters of aural interplay. Sir Isaac's Revenge: synthetic sounds meet lyricism.
Newton Garwood on synthesiser, Eugene Martynec on sampler/computer, Glen Hall on flute and saxophones.
---
April 22, 2001: Baker/Marshall Duo plus Two
Pianist/composer/conductor Tom Baker and cellist Kye Marshall, joined by Glen Hall on saxophone and Tomasz Krakowiak on percussion.
---
No concerts on April 15 (Easter) and April 29
---
May 6 , 2001: Shoot Colour Sheriff
Red Shift Rides Again. Big Band, Bold Strokes and Big Sound. Red Shift includes Jason Hammer - acoustic bass and theremin, Nilan Perara - guitar, slide guitar, and prepared guitar, Doctor Michael Morse - acoustic bass, Susanna Hood - voice; Allan Molnar - drums; Eugene Martynec - MidiAx, the Rust Brothers (Ron Cole and Terence Dick) - turntables, Michael Occhipinti - guitar, percussion master Marcus Chonsky, Glen Hall on saxes, flutes, bass clarinet, voice and electronics.
---
May 13, 2001: Noo and some Old?
Turntablist Mike Hansen performs and demystifies the turntable phenomenon by inviting the audience to participate in his game called " ITCH "as in "SCRATCH". Learn to Itch or scratch.
Also performing is a very innovative percussion quintet . JERK explores the endless possibilities of percussion, homemade instruments, and electronics for their 'sonic palette'. Erin Donovan - percussion, Camille Watts - flute, Bill Brennan- percussion, piano, Rob Power - percussion, Kevin Coady - drums, percussion.
---
May 20, 2001: Avast Ye Lubbers Contemporary Cabaret with Pirate Jenny.
An evening of a fresh approach to contemporary cabaret songs performed by contemporary guitarist Bill Parsons, percussionist, vibraphonist Blair Mackay, and singer Jennifer Moore. A theatrical and inventive musical evening of great cabaret repertoire.
---
May 27, 2001: IMproViSo DirectO 2
Marilyn Lerner Trio: David Mott - baritone sax, Victor Bateman - string bass and Marilyn Lerner -piano. Hot, Hotter and Hottest improvisations anywhere.
Gennaro /Wannamaker. Also performing will be the exciting and exploratory duo of Mike Gennaro -drums and Rob Wannamaker - soniques electroniques.
---
June 17, 2001: Els Buens Vojaxes
Paul Newman Ensemble, featuring Rob Clutton on bass, Tomasz Krakowiak on percussion, Jayme Stone on banjo, Randi Helmers on visuals, and Paul Newman on saxophone.
Plus Kucharzyk/Martynec -- Henry Kucharzyk on Theremin and Eugene Martynec on Midiaxe.
---