June-August 2001




CALENDAR
---
If Cows Could Fly
returns to Artword Theatre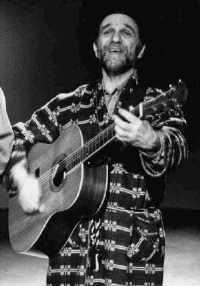 If Cows Could Fly, Allan Merovitz's musical play about the Jewish-Canadian experience, is returning to Artword Theatre for a four-week run this summer, from June 21 - July 14.
A popular success at Artword in February 2000, Merovitz's play is currently being reworked for Prairie Public Television in Winnipeg, by director Ronald Weihs with producer Don Booth.

When a gap unexpectedly appeared in Artword's summer season, Merovitz, and director Ronald Weihs, decided to mount a new stage version at Artword, incorporating some of the changes they have been working on for television.

"It was a spur-of-the-moment decision," Weihs says, "There was a hole in the schedule, and we had a play ready to go. So, in the spirit of the old Mickey Rooney movies, we said 'let's have a show'."

Dora Award winner Allan Merovitz, a widely-known actor and Klezmer musician, grew up in Smiths Falls in the Ottawa Valley in a family of Hassidic Jews. If Cows Could Fly traces the story of his family from Poland, Lithuania and Kishinev to the tiny rural Ontario community. The story of his family is a microcosm of the Jewish experience world-wide.

In If Cows Could Fly, Allan has reconstructed the fragmented memories of his family in diaspora, and interspersed them with a wide range of musical styles – Yiddish songs, country-and-western ballads, as well as Klezmer and Ottawa Valley fiddle tunes.

Allan tells how his Zaide escaped being conscripted into the Russian army by the Cossacks. How a ghost helped Frume leave her marriage ("get a get") and start a new life with her two children. How Bubbe Oudel supported her family – and the whole neighbourhood – during the hungry depression. How Uncle Hy, war hero and demolition expert, solved the problem of "No Jews Allowed on this Road". The tales lead from villages in Poland and Bessarabia, to Antwerp, London, and on to the new world, Nova Scotia, Montreal, and finally Smiths Falls in the Ottawa Valley.

The new version of the script streamlines some of the stories and focuses more on Allan's relationship with his father and grandfather. The new production also heats up the Klezmer band sound, with some hot piano and mandolin playing by Jarl Anderson and the director Ronald Weihs returning to his first identity as "Ron the Fiddler".

Running through all the stories is the indomitable spirit to survive, persist, and transcend. An impossible dream could come true only "if cows could fly". Impossible? Maybe it's just a matter of getting really good at something – making shoes, shooting pool, remembering who you are.


"If Cows Could Fly" - Big discounts for big groups!
Call the box office: 416-408-2783

"The stories are great. ... All together it is just a lovely heartwarming evening for the whole family." Avril Benoit, CBC Radio
"If Cows Could Fly is a crafted, well-executed piece of personal theatre. Merovitz is a good storyteller and a beautiful singer." Joanne Huffa, Eye Weekly

Canada Day Special!
Sunday July 1, both shows 2:30 and 7:30 pwyc
---
Yvonne Ng completes the dance year
July 19 to 21, choreographer and dancer Yvonne Ng presents Stone Velvet, an evening of duets and solos choreographed by Kathleen Rea, Tedd Robinson, Learie McNicholl and Yvonne Ng, and performed by herself and Robert Glumbek. This is the final event in our superb season of dance at Artword. When we built the sprung floor, we hoped it would be filled with exciting dance projects. Our wish has come true!

---
Jean and Dinah ... coming to town!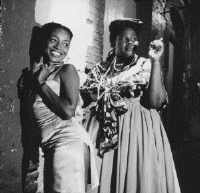 From Trinidad, Lordstreet Theatre Company in association with Artword Theatre present Jean and Dinah Who have been locked away in a world famous calypso since 1956 speak their minds publicly. Written by Tony Hall with Rhoma Spencer and Susan Sandiford, starring Rhoma Spencer (right in picture) and Penelope Spencer (left in picutre). Preview: Tuesday 24th. July 2001 at 8pm $15. Opens Wed 25th and runs till Sat 28th. July, 8pm. $30.


It is jouvay morning, the dawn of carnival morn, and Jean comes to take her friend Dinah to play mas as they usually do for the past forty years and more. However, this year Dinah is tired and ailing, she would not go. Jean tries to rally her into making their annual pilgrimage of the streets, as they play the perennial sailor mas. In the ensuing battle to get Dinah out of bed onto the streets of Port of Spain, both women discover things about themselves that shaped the outcome of their lives. But more than that, Dinah wants Jean to the reveal the part she played in her (Dinah) subsequent blindness. She wants Jean to accept responsibility of the steelband clash and the bottle-pelting incident that caused her blindness.


This tragicomedy is set in present Port of Spain Trinidad: Act one. In Act two, the characters take us some forty years back on the streets of Port of Spain. Jean and Dinah is loosely based on the calypso "Yankees Gone" also known as "Jean and Dinah" sung by the Mighty Sparrow in 1956. The young calypsonian propelled to stardom when he won the calypso competition that year with his selection. The song with its catchy chorus:


Jean and Dinah Rosita and Clementina


Round the corner posing, bet your life


Is something they selling


And if you catch them broken


You can get them all for nothing


Don't make a run, the Yankees gone


And Sparrow take over now.
According to Rhoma Spencer who created the role of Dinah,"the song was a male commentary on the Yankees influence over the local girls in post World War II Trinidad. Since 1956, the song has made an indelible stamp on the nationalist movement of Trinidad and Tobago. Trinbagonians had came to recognize the song as a commentary on prostitution, yet we never got a response from the women of this song. A male point of view was placed on the table and we came to revel and celebrate in its popularity". The play, "Jean and Dinah…Who Have Been Locked Away In A World Famous Calypso Since 1956 Speak Their Minds Publicly", is a bold attempt to hear the women's point of view in this matter of "cultural imperialism". Their stories are an emotional roller coaster of laughter, pain and sorrow.

---

The Chairs inaugurates
the new Artword Alternative
Artword is developing its rehearsal studio into a new performance space for innovative and experimental theatre, dance and music, called Artword Alternative. It will be ready to go in September.


And the first production to inaugurate the new venue is a wild and wonderful treatment of Eugene Ionesco's absurdist play, The Chairs, directed by Soheil Parsa (Modern Times Stage Company), starring Michelle Polak and Peter Farbridge, set and lighting design by Jan Komarek and sound design by Ben Grossman.
This creative team is at work right now exploring the work and it promises to be a surprising and exciting evening of theatre.
The Chairs runs September 25 to October 14, 2001.

---