Sept-Nov 2001



CALENDAR
---
Welcome to Artword's 2001 Fall Season

We're back. After three weeks in London in August, Ron 'n Judith (artistic director and managing director) have come back refreshed and re-inspired, and with some exciting developments to announce.

We have transformed our rehearsal space into the Artword Alternative a performance space for experimental work. We've made an entrance from the North Gallery, and we'll be running two shows concurrently. That means two audiences, mingling before, after and at intermission. Will it work? Sure it will, with a little help from our friends -- that's you.


We welcome our new Technical Director, Leyla Tshongo, who brings a wide range of theatre expertise to Artword.

We are outsourcing our advance sales to the wonderful folks at the St. Lawrence Centre. They are much better set up than we are to answer phone calls, and have lots more lines. Their charge per ticket is reasonable, and their staff is friendly and helpful. It's going to give us a lot more time to do all the other things in running a theatre.

And of course, some wonderful programming coming up this fall. Come and say hello.








Ronald Weihs, Artistic Director

---
Canada première of South African play

The African Theatre Ensemble is back, with a South African play by world-renowned poet Zakes Mda, And the Girls in Their Sunday Dresses (at Artword from Oct 3 to 21).


Written in 1988, the play foresees the end of apartheid and warns of new dangers. Two women, a retiring prostitute "Lady" (Kim Roberts) and the working class "Woman" (Kathy Imrie) wait in line for their subsidized allotments of rice. Over four days, they come to recognize that they have one thing in common: their men have deserted them.

Winner of the 2001 Commonwealth Literature Prize, Zakes Mda rose to fame with the play We Shall Sing for the Fatherland. On Friday Oct. 12, a gala performance honours Zakes Mda, who will attend the reception at 7 pm. Tickets are $35. (Regular tickets other nights are $22, $15 for students and seniors.)
Mda also gives a public lecture at Winters Senior Common Room, Winters College, York University, Mon, Oct 15 at 7 pm. Info: 416-736-2100, ext. 33032.

The AfriCan Theatre Ensemble has produced two plays at Artword Theatre, both by contemporary Nigerian playwright Ola Rotimi: The Gods Are Not To Blame (1999) and Our Husband Has Gone Mad Again (2000). The AfriCan Theatre Ensemble was founded in 1997 by York University literature professor Modupe Olaogun and Dora Award-winning playwright and performer George Seremba.

And the Girls in Their Sunday Dresses is directed by Rhoma Spencer who recently appeared at Artword Theatre in Jean and Dinah. She is assisted by writer and film director Debe Morris. Visual artist and architect Shungu Sabeta provides set, costume and graphic design.

---
ARC play-reading series


An increasing number of canny theatre-lovers have discovered the monthly play-reading series held on Monday nights at Artword by the Actors Repertory Company. It's refreshing to hear plays read by such expert actors. The readings are staged simply, with the actors carrying scripts. Character and text are paramount. Admission by donation. (Sept 24: Kafka's Dick by Alan Bennett, Nov 5: After Darwin by Timberlake Wertenbaker, Dec 3: Kennedy's Children by Robert Patrick

---
Eugene's new music nights return


If you want to hear sounds you have never heard before (and probably will never hear again, 'cause it's improvised) come to Eugene's Sunday Night concert series. Composer Eugene Martynec has been hosting these events for a year now, providing an opportunity to creators of new music to hear and work with each other, and share their collaborations with an audience. For us, after a hard week, these concerts are astonishingly refreshing and fun. The players that Eugene has been getting are really fine. Weekly, Sundays at 8 pm, $8, Oct 21 to Dec 2.
Jayne Eastwood stars in 'Night, Mother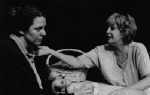 About two months ago, director Jordan Merkur of Eclectic Theatre came to us all excited about his summer production of the Pulitzer prize-winning play 'Night, Mother, a two-hand tour-de-force starring Jayne Eastwood and Alison Smiley. He wanted to remount it quickly while it was still hot, because it was too good to let it slip away. He not only needed a venue, he needed someone to produce it. He got us excited too, so we took the plunge and agreed to put it in the main space in November. Jayne Eastwood is so busy with film and TV that the opportunities to see her on the stage are all too rare. The role of the mother in this beautifully-written drama was made for her. Don't miss it.

Jayne is well known for her appearances in TV series and films such as Goin' Down the Road, King of Kensington, Material World, Riverdale, Small Sacrifices and Life With Judy Garland: Me and My Shadows. She received the Earle Grey Gemini Award for Lifetime Achievement.

Jordan rounded up his team, including designer Sean Mulcahy and we're ready to go. Previews Nov 6 and 7 are pay-what-you-can. The show runs Nov 8 to Dec 2, with half-price Sunday matinées at 2:30.

---
Soheil Parsa tackles Ionesco

For the first production in our new Artword Alternative space, Soheil Parsa, of Modern Times Stage Company, brings his unique process and vision to Eugene Ionesco's classic absurdist play, The Chairs). The production stars Michelle Polak and Peter Farbridge. From a design standpoint, the production is a three-way collaboration involving Soheil, Jan Komarek (set and lighting) and Ben Grossman (soundscape). They have been working in the space throughout the rehearsal process, changing things night by night, and trying out the results next day. This is truly the kind of theatre laboratory that we envisioned. The Chairs runs Sept 21 to Oct 14

---
Powerful drama explores sexual abuse

Starting October 24, Artword Alternative hosts a moving production about a tough subject. Miss Begotten, a powerful drama by Hamilton playwright Kevin Land, is based on the experiences of Diane Esther, a Hamilton poet, sexual abuse counsellor, and incest survivor. Her book, Out of Incest and Abuse, A Book of Hope, has become a beacon for many of those who are rebuilding their lives after the psychological damage of child abuse. Directed by Jeff Santa Barbara and performed by Maureen Dwyer, Miss Begotten has been performed several times in the Hamilton area, where it has developed a devoted following. View Magazine called Maureen Dwyer's performance a "brilliant tour de force of creative ingenuity".


The message is one of hope and redemption. Inventively staged in the Artword Alternative, Oct 24 - Nov 17, matinées Wed at 1 pm and Sat at 2 pm

---

Canboulay honours the pan!

Canboulay Dance Theatre is returning to Artword October 24 to 27 with its unique brand of theatrical magic. Choreographer Ronald Taylor is again reaching into his Trinidad roots for inspiration with Symphonic Steel, a tribute to Trinidad's national instrument, the "pan" (steel drum). And of course there will be plenty of live pan music through the night. Those who packed last year's production, In the Depths of My Palais, know Ronald's ability to weave together music, dance, theatre and visual elements into a rich tapestry. More restrained than last year's extravaganza, this year's production is delicate, rich and passionate.

The opening night of Symphonic Steel is a benefit for a devastating genetic disease called "AT" (Ataxia-Telangiectasia). It is something like cerebral palsy, but progressive. A wonderful and brave child of one of Ronald's company has this disease. Tickets for the benefit are $55. See you there.

---
Gallery artists explore innovations

In Artword Gallery until Oct 21, weaver Peter Harris is showing tapestries that push the technical limits of that art form. Each piece tackles a different set of problems, using imagery that is unusual for tapestry. Visit him at the reception Sat, Sept 29, 1-5 pm.

Bruce Parsons is a major Canadian artist whose career is characterized by a constant search for new modes of expression. From Oct 23 to Nov 24, he is showing constructions, laser and inkjet prints on canvas, and banners. Come and meet him at the opening, Sat, Oct 27, 1-6 pm.