June-Aug 2002



CALENDAR
---
Artword's musicalToronto The Good
For six weeks this summer Artword Theatre is presenting our own original musical Toronto The Good, written and directed by Artistic Director Ronald Weihs and designed by Judith Sandiford. Toronto The Good previews June 14-16, opens June 18 and runs to July 28.


Together with our friends at Innocenti Restaurant we have worked out an attractive dinner-show package that makes it easy to come downtown for a really good night out.


Toronto the Good is Artword's celebration of our beautiful city. For some years, I've wanted to do a play about Toronto for visitors and for all the people who come downtown during the summer months. And I didn't want it to be a history lesson.


I came across a book called Of Toronto the Good, by C.S. Clark, published in 1898. It's a "social study" of everything that was going on in a city that was just starting to think of itself as a major urban centre. Clark tells it all: good, bad and naughty, in a wonderful acid style that is as fresh as the day it was written.


That was the spark. Instead of a history lesson, we would present a snapshot of Toronto in the 1890s. Once I started looking, I found plenty of material just as fresh as Clark's book: newspaper articles, advertisements, temperance tracts, and wonderful songs of the period in sheet music.



As gas lamps gave way to electricity, Toronto found itself a hotbed of activity: plays, opera, vaudeville, concerts, balls, Sunday excursions to Toronto Island, dudes "on the mash", women in bloomers pedalling bicycles in High Park, and others of doubtful repute strolling along Yonge street and in fancy houses downtown.



Toronto first became known as "Toronto the Good" after the election of Mayor Howland in 1886. With the support of the labour and temperance movements, he undertook to clean the city from vice and corruption. After a few years Toronto began to relax, but the reputation remained.



In the first act, we see what was going on in everyday life. In the second act, we sample some of the music, theatre, vaudeville, and dancing of the time.



All songs are from 19th century sheet music. We have avoided "old chestnuts" in favor of clever, topical songs that will be fresh to modern audiences. Many of the songs are from the Library of Congress archives, while others are from temperance song books available today only in microfilm. From the Library of Congress archive as well, we have sampled some authentic vaudeville routines.



I discovered our superb music director, Tom Baker, playing new music at Eugene's Sunday Series, Artword's regular new music concerts. Tom is a composer/performer/conductor with extensive experience in all areas of music – jazz, classical, new music, and old time country. He conducts choirs and was the Music Director of Second City from 1977-1983.



Tom, Judith and I held a week of open auditions. We were impressed with the quality of the auditioners, perhaps because we had made it clear that we wanted excellent singing, acting and dancing. We chose our five favourites and they all said they'd do it. Not only are they as talented as they looked, but they are really nice too. I'm having a great time, and you will too! Here they are: Ann Bisch (top right), Sherri McFarlane (middle right), Michelle Piller (lower right), and Alastair Love (top left) and Robin White (lower left).


Choreography is by Janet Atkinson, artistic director of Zeus Opera Dance Theatre, who will present her production of Hero's Hood at Artword next November. My childhood friend Catherine Hahn, who is a designer of considerable renown in British Columbia, happened to be in Toronto and Judith and I immediately conscripted her to collaborate on the design of the set pieces and props.

---
Korean music, drumming and dance!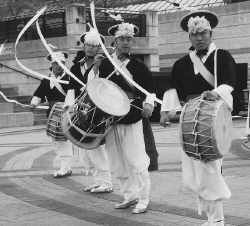 Artword's main theatre hosts the Korean drum and dance group Jeng Yi June 6-8 at 8 pm.


Jeng Yi specializes in "Samulnori," the folk music tradition of Korea that means "to play four things" -- four percussive instruments: a small gong, a large gong, the hourglass drum and a bass drum.


This music was often played during rural festivals, during auspicious dates of the farmers almanac (such as harvesting and planting periods), during weddings, funerals, at birth of a child. There is also a strong shamanistic element to this music and this music would be evident during rituals when a village encountered difficult times, to ask for guidance and help from the heavens.


The first piece ,"Binari", is a prayer song, where the performers recount the Korean creation story, call upon the different spirits of the village for their assistance and to give a blessing to the performers, the audience members and the space they inhabit. The second piece features the performers on the changgo, the hourglass drum. The third piece features all four drums. The players perform an extensive arrangement of the different rhythms of Korea.


The second half of night will showcase Korean folk dance, where the performers will dance, drum and spin the "sangmo," a ribboned hat that is spun with the energy of the dancing body.
---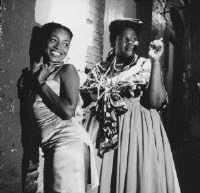 Jean and Dinah ... coming back!
After last summer's huge success, Jean and Dinah want to come back. They'll be here over Caribana weekend, for 2 weeks, July 30 to August 11. Watch for the Women's Talk Tent on August 4.
From Trinidad, Lordstreet Theatre Company in association with Artword Theatre present Jean and Dinah Who have been locked away in a world famous calypso since 1956 speak their minds publicly. Written by Tony Hall with Rhoma Spencer and Susan Sandiford, it stars Penelope Spencer (left) and Rhoma Spencer (right).


It is jouvay morning, the dawn of carnival, and Jean comes to take her friend Dinah to play mas on the streets of Port of Spain,as they have done for over forty years. However, this year both women discover things about themselves that shaped the outcome of their lives. Dinah wants Jean to accept responsibility for the steelband clash and bottle-pelting incident that caused her blindness.


The play is loosely based on the calypso "Yankees Gone" also known as "Jean and Dinah" sung by the Mighty Sparrow in 1956:


Jean and Dinah Rosita and Clementina


Round the corner posing, bet your life


Is something they selling


And if you catch them broken


You can get them all for nothing


Don't make a run, the Yankees gone


And Sparrow take over now.


According to Rhoma Spencer who created the role of Dinah,"the song was a male commentary on the Yankees influence over the local girls in post World War II Trinidad.". The play Jean and Dinah…Who Have Been Locked Away In A World Famous Calypso Since 1956 Speak Their Minds Publicly, is a bold attempt to hear the women's point of view in this matter of "cultural imperialism". Their stories are an emotional roller coaster of laughter, pain and sorrow.
---