February 5th, 2019
Comments Off

on THEATRE: Langston Hughes vs Joe McCarthy, March 9 to 17, 2019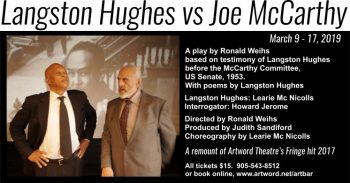 March 9 to 17, 2019. All tickets $15.00. Call 905-543-8512
Artword Theatre is bringing back its timely and sensitive piece of documentary theatre, Langston Hughes vs. Joe McCarthy, written and directed by Ronald Weihs and produced by Judith Sandiford. Dancer-choreographer-actor Learie Mc Nicolls plays the role of Langston Hughes and character actor Howard Jerome plays The Interrogator.
Is poetry subversive? U.S. Senator Joe McCarthy thought so. On March 24, 1953, Langston Hughes, renowned poet of the Harlem Renaissance, was summoned before the Senate Committee on Investigations. Did his poems contain communist ideas? In reply, Langston Hughes tells about his personal encounters with racism in America. The script is based on the actual transcript of his testimony, interwoven with the controversial poems, and incorporating dance, music and powerful images of the era.
Only 8 performances! Running time: 60 minutes. Show dates and times:
Saturday March 9 at 7:30 pm, OPENING Special, includes admission to the Beg To Differ concert, following at 9 pm.
Sunday March 10 mat at 3:00 pm, Tuesday March 12 at 7:30 pm, Wednesday March 13 at 7:30 pm, Thursday March 14 at 7:30 pm, Friday March 15 at 7:30 pm, Saturday March 16 mat at 3:00 pm only, Sunday March 17 mat at 3:00 pm, final show.
---
Read Gary Smith's review March 13, 2019 in the Hamilton Spectator:
Langston Hughes vs. Joe McCarthy is a moving and probing drama
"Langston Hughes vs. Joe McCarthy," playwright Ron Weihs's probing drama, packs a lot of power into an hour. This short play, interspersed with elegant stage moves, as well as haunting poetry by the iconic Hughes, is a fusion of art forms that sits neatly on the Artword Artbar stage.
The room is small. So is the stage. But the ideas are large.