June 1st, 2018
Comments Off

on Exchange for Change, for Under The Willow, Tues June 19, at 6 pm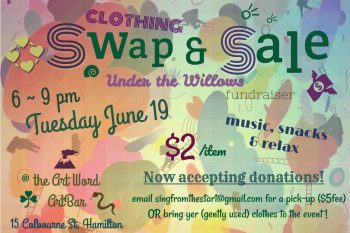 Tuesday June 19, 2018, from 6 to 9 pm. All ages. Exchange for Change – a clothing swap fundraiser in support of Under The Willows, arts and garden program where children who experience adverse life circumstances may joyfully express themselves as creative individuals of value. www.underthewillows.org
What: Snazzy duds, rad tunes, yummy treats and chill zones for relaxing. All donated items are up for grabs for $2 each!
How: Bring your still-wearable but no longer-for-you clothes. to the swap itself. Or have them picked up for a fee of $5 with proceeds from pickup going to UTW, Email singfromthestart@gmail.com to arrange pickup.
Why: Because UTW is amazing. Because clothes left over will be donated to
Drama Dressup. Because your closet needs a refresh so why not do it
for a good cause. Because $2 is a ludicrously lovely price to pay for your
new favourite top/pants/dress/skirt/shoes/hat/mitts/tux. Because Artword is
a super fun place to hang out. Because YOLO and FOMO. Because you want to!