February 1st, 2016
Comments Off

on Noche de poesia y musica (night of poetry and music), Fri Mar 4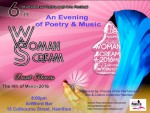 Friday March 4, 2016, at 8 pm, $15 or sliding scale. This Noche bohemia (a night of poetry and music) is called  Woman Scream, a night dedicated raising awareness about violence against women. There will be poetry and music. The poets include: Amaluna, Constanza Duran, Violeta San Juan, Maria Eugenia Lemus. Musicians include: Fito, Marcelo Puente, Edgardo Moreno, Lil Acevedo.


This event is part of an international event, Festival Internacional de Poesía y Arte: Grito de Mujer/Woman Scream/ Cri de Femme.
It also honours International Women's Day (March 8, 2016).