May 24th, 2013
Comments Off

on XiFu Sagas: nine-member new music band, Sun June 23, 7 pm
IN THE NEWS! Noted by Leonard Turnevicius, classical music columnist  in June 20 The Spec. Plus an in-depth interview on Cut From Steel Blog: http://cutfromsteel.com/project/learning-all-about-the-xifu-sagas/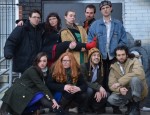 SPECIAL CONCERT Sunday June 23 at 7 pm, $10 door, $8 advance (book xifusagas.ca/shows ). XiFu Sagas, a nine-member new-music chamber ensemble from Montreal. They are here launching their new album "One Last Dance". Two members, Annie Shaw and Sarah Good (from Earth Wind and Choir), are Hamiltonians. XiFu Sagas's music is all original and composed by ensemble co-founder and composer Simon Chung.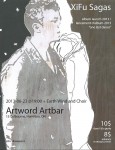 Combining modern, classical, jazz as well as ancient Chinese melodic inspirations, they will bring us something totally fresh and new to hear. Their site: xifusagas.ca  Their live videos: vimeo.com/xifusagas   Their music: (album preview) xifusagas.bandcamp.com
Simon Chung -compositions, double bass, voice; Thierry Cotton -tenor saxophone, flute, piccolo, guitar, voice; Martin Courchesne – piano, voice; Daniel Gélinas -drums, guitar, voice; Sarah Good – glockenspiel, guitar, voice; Kaitlyn Raitz – cello, voice; Annie Shaw – accordion, piano, voice; Alma Thrift – violin, voice; Devin Waldman – alto saxophone, drums, voice.
Opening set by Earth Wind and Choir.