August 6th, 2017
Comments Off

on Greg Oh, John Millard and Patricia O'Callaghan, Sat Sept 16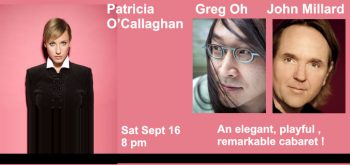 Saturday, September 16, 2017, at 8 pm, $15, $10 for students. Greg Oh, John Millard and Patricia O'Callaghan met during their 6 year artistic residency at  Soulpepper Theatre. They have since then collaborated on a variety of music performances. This repertoire is a fascinating evening of stories and songs ranging from Millard's gothic Canadian solo repertoire to O'Callaghan's elegant and playful cabaret selections, to Greg Oh's remarkable solo work, including remarkable stories about the world of modern orchestral piano playing.
1st set: John Millard on banjo and vocals. Greg Oh piano. New and recent songs by John Millard plus a selection of songs from the musical Ratbag by Martha Ross and John Millard. Joined by Patricia O'Callaghan
2nd set: Greg Oh performs short works by Phillip Glass and John Cage. Patricia O'Callaghan performs works by Randy Newman, Charles Ives, Leonard Cohen, Jaques Brel, Fernando Obradors, Astor Piazzolla and Divine Comedy.
Event, Music, Music-cabaret, Music-Classical, Music-Jazz, Music-singer/songwriter