October 25th, 2017
Comments Off

on Timna & Dario Duo (Brazil/Argentina), Wed Nov 22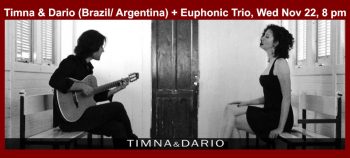 Wednesday November 22, 2017, 8 pm, $10. Timna & Dario Duo (Timna Comedi and Darío Acosta Teich). Opening set by Euphonic.
A beautiful Brazilian voice and  Argentinian guitar come together in exquisite arrangements that combine tropical rhythms with jazzy harmonies and a touch of contemporary music. After launching their album Tabula Rasa in 2015, Timna & Dario presented it in Argentina, Brazil, Spain, France, Belgium, England, Netherlands, Israel and Palestine. Currently they are finishing their second CD called Tipo um Album, featuring songs by Chico Buarque. https://www.facebook.com/timnaydario/
"Her voice shines expressive, like fresh spring water. His guitar is clever, eloquent. A music and talent hug" ("La Gaceta" Newspaper)
Euphonic is an eclectic trio of instrumentalists: Bob Wegner on guitar, Vince Waters on drums and Geoff Ball on cello perform original songs influenced by classical, spanish, folk, ragtime and jazz.