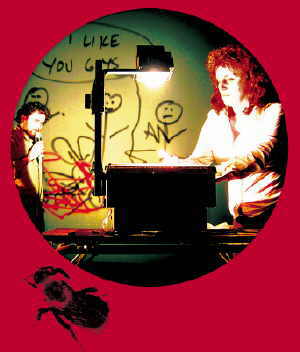 Artword Theatre, 75 Portland Street, Toronto
May 31 to June 18, 2005
STO Union (Toronto), Le Festival de Théâtre des Amériques (Montreal) and Theater der Welt (Germany), in association with Artword Theatre present
Revolutions in Therapy
written and directed by
Nadia Ross and Jacob Wren
with the artistic collaboration of Tracy Wright
performed by:
Nadia Ross, Jacob Wren and Tracy Wright
preview May 31, opens June 1:
Tues to Sat at 8 pm, $22 and $15 for students/seniors
Sundays pwyc at 3 pm
Reservations 416-366-7723 ext 290 or book online
Revolutions in Therapy will represent Canada at Germany's international theatre festival, Theater der Welt (Theatre of the World) in Stuttgart immediately following the Toronto production.


Revolutions in Therapy is a bold new work which touches on our deepest personal and collective concerns. Based on 'wild psychoanalysis,' the premise that everyone is damaged and therefore everyone should analyze everyone else all the time, Revolutions in Therapy asks important questions about meditation and psychoanalysis, nature and capitalism as they relate to the human desire for finding wholeness through defining what is inherently mysterious. Using story, question sessions and video projections, three performers explore this desire and embark on an adventure with every possibility of going astray and never reaching the goal; where what is shared reveals itself as something profoundly moving and impossible to define.


Nadia Ross and Jacob Wren have been working together on specific theatrical and film projects since 1992. Their previous collaboration for the stage, Recent Experiences, continues to tour internationally to great acclaim.


Revolutions in Therapy was created in residency at Usine C (Montreal) and premiered on May 26, 2004 as part of the 5th edition of the Théâtres du Monde event presented by the Festival de Théâtres des Amériques in Montreal.
"Revolutions in Therapy is a small jewel…Their way of being in the world is transformed through words, the expression in their eyes, long pauses, into a wondrous poetry of the body and mind. Nothing is spectacular, everything is simple: honest, open, presented with dry humor and great concentration." - Theater Heute, November 2004
"More accessible than a course in transcendental meditation or a session with a shrink, and certainly as effective." - La Presse, Montreal
Founded in 1992 by current Artistic Director Nadia Ross, STO Union is committed to exploring the role of theatre in society and participating in an international discourse on theatre.