Find/Contact Us
Artword Artbar and Artword Gallery:
Venue Address:  15 Colbourne Street, Hamilton ON L8R 2G2
Mailing Address (Office):  166 Prospect Street South, Hamilton ON
Call us: 905-543-8512, or cell 905-912-9083
Ronald Weihs and Judith Sandiford
email artword@artword.net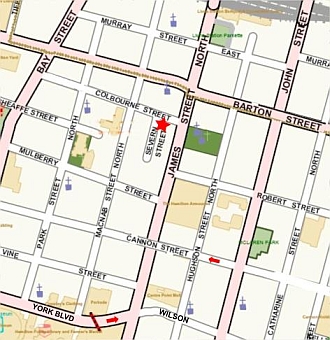 Map of
15 Colbourne St. Hamilton ON
By car: from the 403, take the York Blvd exit, go east on York Blvd. Turn left at James Street North. Turn left at Colbourne.
By car from the east: from Cannon, turn right at James Street North, and left at Colbourne. Or from Barton turn south.
Parking:
Street parking in the area.
Municipal lots: – off Mulberry, -off Hughson behind the Cathedral (& walk through the Cathedral courtyard to James Street.)
The parking lot directly across from us (formerly Shoppers Drug Mart) is private and constantly ticketed — please DO NOT park there at any time.
From the GO Station Hunter Street:
Walk north on James Street, until you reach Colbourne. It's about 10 blocks (a 20 minute walk).
By public transit: many bus lines stop near James Street on King or Main. You can walk north about 7 blocks. Buses also run north/south on James Street.