Venue Info
INFO for Audience:
Capacity? 60 at cafe tables and bar stools.   All Ages? Yes, we are an all-ages venue.
Beverages? Licensed by the AGCO. Micro-brew on tap. Wines, highball cocktails, bottled beer, coolers. Also espresso, tea, juices, and light meals.
Accessible? No. Unfortunately, we are not an accessible venue. The building's main floor is half a story above street level. Washrooms are a full flight of stairs down to the lower level.
---
INFO for Musicians and Performers:
Want to perform at Artword Artbar?
We are a concert venue, with a cafe-bar listening-room atmosphere. If you have a high-quality show in mind, and know who your audience for it will be, please send us an emai with your show proposal plus links: Artword Theatre <artword@artword.net>
We like a concert-style format, usually with an 8 pm start, an intermission, and winding down by 11 pm.
What sound system and gear does Artword Artbar have?
* PA sound system: 12-channel mixer-amp with both xlr and guitar-cable inputs, plus 2 speakers, 2 monitors (Yorkville).
* DI box: 1
* Vocal mics: 7 (4 SM38s, 2 Sennheisers, and 1 Audix)
* Instrument mic: 1 (SM37),
* Cables: various mic cables and guitar cables. Please bring some of yours as well.
* Mic Stands: 3 boom weighted base, 3 boom tripod base, 3 gooseneck weighted base, 2 weighted base straight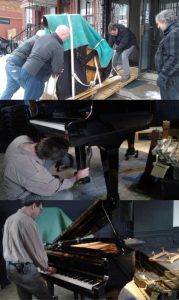 * Guitar stands: 4
* Music stands: 3
Piano:
* Piano: As of Feb 3, 2018, a newly-acquired 4-foot baby grand (Young Chang), tuned. See photo left on delivery day.
Please email us in advance if you would like to play it during a show. We move it closer to the stage. It does not go up on the stage.
Load-in, Parking?
* Load-in: Usually about 6:30 pm, for an 8 pm show. Rear load-in door beside our private parking lot.
* Parking: For musicians only, behind our building off Severn St., room for six small cars if jockeyed.

Other resources:
We have a short-throw projector (image ratio 16:9 ). Its image fills our upstage white wall, which is usually covered by a black scrim curtain. Please email us a special request in advance to find out if you can use it: artword@artword.net
Image to the right is an archival view of our previous piano, the Wurlitzer baby grand.